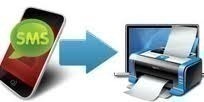 Unfortunately, the iPhone does not yet permit printing via Blue Tooth connection. There is another option for mobile users who desire to print text messages from the iPhone, since the iPhone supports screen capture, which can be emailed to an account that the text message can be printed from.
How to Print Text Messages from the iPhone
Step 1 – Tap the "Messages" icon on the iPhone's front panel.
Step 2 – Tap the message to be printed.
Step 3 – Scroll the message screen to display the portion of the dialogue to print.
Step 4 – Press the "Home" and "Wake/Sleep" buttons at the same time to take a screen shot of the text message. The screen will flash when the image has been taken.
Step 5 – Press the "Home" button to escape to the main iPhone screen.
Step 6 – Tap the "Camera" icon.
Step 7 – Tap the small image on the lower left hand side of the camera display screen to open the photo library on the iPhone. The phone will default to opening the last image taken, which will be the screen shot of the text message.
Step 8 – Tap the forward menu button on the lower section of the display to email the image to an account that can be accessed on a computer connected to a printer.
Step 9 – Enter the email address to forward the image and press the "Send" menu option.
Step 10 – Open the email on a computer connected to a printer and then print the image of the iPhone text message.
Using Third Party Applications to Print Text Messages
Alternately, third party commercial applications can print and back up iPhone text messages. The Tansee iPhone Transfer SMS application is one of the more established commercial options. The program is not free, but it has the added feature of backing up texts from the phone as well. In order to do this, the phone should be connected to the computer with the software installed. The software permits users to load text dialogues in the computer's web browser, which can then be printed. For Mac users, PhoneView is a similar application that supports exporting SMS and MMS messages to the Mac for archiving or printing.