A NAS, or Network-Attached Storage, device is a type of hardware that allows all users in a network to store files to the same storage device. A NAS device is often used by companies who have large amounts of data that need to be accessed by multiple users within the same network. NAS devices are also used by home users but they are more common in companies. NAS devices may include one hard drive for direct storage or multiple hard drives for RAID-5 storage in order to store redundant files (copies of the same file stored on multiple hard drives to prevent data loss in the event of disk failure). NAS devices often resemble external hard drives but may include other features such as a built-in router or access point.
Clustered NAS
A clustered NAS is a NAS system that distributes files over multiple hard drives or servers. A clustered NAS is similar to a RAID-5 storage system but instead of storing multiple copies of a file, it spreads the same file out over multiple hard drives. While this is an unreliable system (due to the risk of data loss in the event of disk failure), it allows multiple users to access the same information at the same time. Clustered NAS systems are used primarily in corporate offices and are only very rarely used in home environments.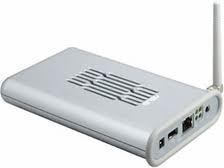 How To Setup A Wireless NAS
A NAS can be easily set up by connecting the NAS device to the modem, router, or access point of the network by using the included Ethernet cable. You will run an installation disk on the computer to allow the network to recognize the new device. Once this step is complete, you can remove the Ethernet cable and access the device wirelessly.  Then you can use a command line, included software, or third-party software such as FreeNAS or Openfiler to access the NAS device and control it from any computer on the network. As NAS devices are meant to be used by all users within a network, the user will need to setup the device on each computer that needs to have access to the NAS device.
FreeNAS
FreeNAS is a free, open source NAS software designed for Windows that allows users to access their NAS devices in a friendly user interface. FreeNAS is based on the FreeBSD software and can be run from a USB flash drive or LiveCD without installing it on the host computer. The software can also be installed directly on the user's hard drive. FreeNAS supports RAID-5 systems, FTP, NFS, TFTP, AFP, Unison, UPnP, iSCSI, CIFS, and RSYNC. The software also includes an email monitoring solution, a web configuration interface, and disk encryption. FreeNAS can be found at http://freenas.org/ .
Openfiler
Openfiler is a NAS operating system designed for Linux that allows users to decrease costs, increase data transfer speed, expand accessibility, and maintain a high level of performance. Openfiler supports both file-based and block-based information and automatically configures the NAS device to work with an included browser-based user interface. Although Openfiler was designed for Linux, it has support and complete functionality for Windows and Unix operating systems. Openfiler is available at http://www.openfiler.com/ .