A rubber stamp is a ubiquitous item. Almost every office has one. They are the perfect tools for administering to forms, making a signature for a check and helping to advertise your company. While the regular stamp and ink pad has been around it seems forever, the newer self inking stamp is definitely a practical innovation.
Besides a date stamp, most stamps are static, the text or image never changes and combining the two components of the stamp and the ink has made for an effective and efficient product. Self inking stamps aren't magic; however they do tend to pique the curiosity of those that are interested in how things work. For the self inking stamp, the way it works is really simple.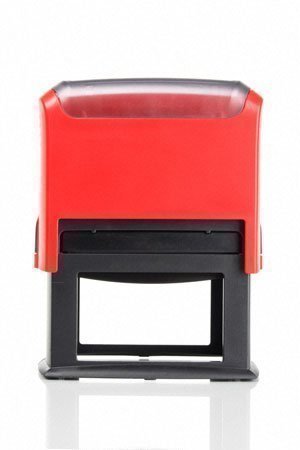 Self inking stamps have three components, the actual stamp, the stamp pad and the frame that houses both. Usually made from plastic, the self inking stamp is only a couple of inches in height by an inch or two wide. The stamp text or graphics are usually viewed from a sticker that is attached to the top where one holds it. In order for a self inking stamp to work, a specific motion must be used to manually, but seamlessly place ink from the inkpad onto the stamp.
When using a self inking stamp there is one single motion that must be completed. Holding the stamp handle, place the bottom portion of the stamp on the paper where you would like to have stamped (there are usually plastic guides to help), now simply press down, the handle will be able to depress about an inch or so. In this movement, you are actually causing the stamp to be inked by the pad, then as you continue the action, the stamp and pad rotate away from each other and the stamp is put on a trajectory directly towards the paper. As pressure continues to be applied the stamp now wet with ink presses against the paper leaving its mark.