In simple terms, sndvol32.exe can be described as a Microsoft Windows certified executable system file that comes along with all 32-bit versions of Windows operating system and is responsible for controlling volume and mixer settings of audio channels inside the computer.
Why is sndvol32.exe essential in a PC? – Located primarily in system32 directory on Windows XP, sndvol32.exe has a file size of 138752 bytes and is default accessible using the system tray icon present on the system tray bar. The biggest advantage of having sndvol32.exe in the system is that it is a sophisticated volume control program that enables users have enhanced editing capability of different audio lines available in the computer including main volume, CD-in, microphone and PC speakers.
Interesting Facts About sndvol32.exe – Interestingly, sndvol32.exe is a non-essential system process that is not required to run your Windows system. However, it should be allowed to run at the time of startup should never be terminated from the registry unless it is suspected of getting infected or causing a problem with the system operations. Also, the program comes integrated with Windows XP installation CD and cannot be downloaded from Microsoft website, in case the program gets corrupted.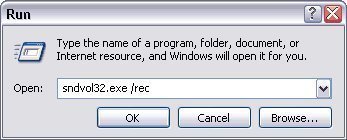 Fixing problems with sndvol32.exe – Whenever audio controls in a PC are not functioning properly, it is imperative that sndvol32.exe has either got corrupted or damaged. In these circumstances, people usually experience certain problems/error messages, where the volume control icon is not displayed in the system tray bar and when one tries to fix the problem, the system doesn't allow. So, whenever a sndvol32.exe gets damaged, the best way to fix the problem is to download the same program from the Windows XP installation disk or CD-ROM. For this, follow below mentioned steps.
Insert the CD-ROM into CD drive, open "Start" menu and click on "run".
Type "cmd" in the open field and then press "Enter".
Later, run the following commands in the command prompt window and press enter after each command so as to execute the function. Replace "D:" with the letter of your CD-ROM drive.

D:

CD i386

Expand sndvol32.ex_system_rootsystem32sndvol32.exe

Finally type "exit" in the command box and then press "Enter" to close the window.
If the volume icon appears on the system icon tray, it means that the problem has been fixed.
Is sndvol32.exe spyware? – In the recent times, sndvol32.exe has elicited a great interest among anti-spyware and anti-malware manufacturers. This is because executable files that are relatively similar such as sndvol32.exe, dmremote.exe and wscntfy.exe are located in such a directory where there is an increased risk of security threats from viruses, Trojan horses and other malicious programs. Secondly, sndvol32.exe is often mistaken as a malware program as many viruses tend to camouflage themselves as sndvol32.exe and often go unnoticed even while using the best available antivirus software, thereby causing irreparable damage to the system. In this regard, software security experts around the world suggest monitoring the functioning of sndvol32.exe to determine whether or not the PC is infected.
Preventing damage to sndvol32.exe – The most common reasons due to which volume control file gets damaged include installation of sound card drivers that are not compatible with the existing Windows OS, improper fixing of sound cards on the computer, registry errors and spyware. So as to prevent any damage to sndvol32.exe, it is important that the sound card drivers are installed properly and are regularly updated. Also important is the fact that the PC must be regularly scanned using a reliable antivirus and antispyware program so as to keep your system secure and protected.