Ocean currents are one of the main factors that affect climate. Other factors are proximity from the equator, distance from the sea, direction of prevailing winds and relief (mountains). But, for the most part, ocean currents act as one of the most important factors that influence the climate. And the reason why is because a current is water that travels. With that traveling water comes heat.
The best example of a current is the Gulf Stream. This is a current of water that originates in the Gulf of Mexico and heads north in the Atlantic toward Western Europe and The United Kingdom. It then circles around and goes back to the Gulf. A current, therefore, is water that goes in a cycle. It goes north and then loops around and goes south and then loops around and goes north again.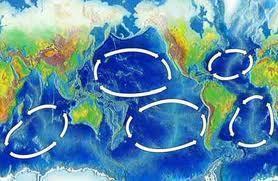 When the current heads north from the Gulf of Mexico, the water is typically very warm because of how near it is to the equator. However, more than just the water being warm, the air that goes with the warm water is also warm. So, warm water and water air are moving north into a region that is farther from the equator. It's like having the heat on in one room of the house and then opening all the doors so that the heat can flow into them.
When the warm air and water get north–toward the United Kingdom, Portugal, France and Spain–the water mixes with the slightly cooler water in this northern region and warms. However, the air is what is most important. The warm air typically is very moist. It carries a lot of water because it is coming from a very wet place. Because of the warmth, evaporation occurs thus hydrating the air.
It is because of this that in the United Kingdom, it rains a lot. The warm air flows over Britain and as the cold air of Britain mixes with the warm air that came from the Gulf Stream, the water condenses and it rains. However, the Gulf Stream is also to blame for there being very little, if any, ice in Western Europe, but when summer comes along, it's very warm. In other words, the Gulf Stream allows for a temperate climate year round for Western Europe.