On occasion, Facebook and other popular sites such as Orkut, YouTube, and Hulu may block users. Fortunately, users may use a proxy to unblock themselves. However, this may not work as Facebook and similar sites rely heavily on javascript for basic functionality. That is to say, although the user will be able to visit the site, using any web proxy without javascript enabled will not work.
Therefore, Javascript enabled proxies may solve this problem. Many proxies do not support this, but those that do are not enabled by default. There is often a "Remove Scripts" checkbox that should be unchecked for javascript to work. "Allow cookies" should be checked. The same should apply for other javascript heavy sites. Hulu users must find a proxy in the US.
This proxy list may have some web proxies that work, but most of them have problems accessing Facebook and other pages. Some of them are infested with ads that make it impossible to enter login information.
HTTP port proxies are probably the best options. They are IP addresses and ports that are entered into the browser proxy settings so the browser goes through them when it tries to fetch a web site. Such proxies can be found on Anonymous, High Anonymity, CoDeeN, Transparent, and Non Transparent proxy lists.
Here are a few recently tested CoDeeN proxies. If they stop working, please alert the author of this article in the comments section so that the list can be updated:
203.178.133.2:3124 (Japan)
174.142.24.201:3128 (California)
222.165.130.82:3128 (Sri Lanka)
149.169.227.129:3127 (US)
189.115.182.22:3128
To use these proxies in Firefox, open Firefox preferences by going to Tools, Options (or Firefox > Preferences on Mac), then to Advanced Network, and click Settings to get to a page for configuring proxies. Click "Manual proxy configuration" and put the IP address in the HTTP Proxy field, and the port in the Port field. The port is the number after : in the above addresses.
It should look something like this when the first proxy above is entered in: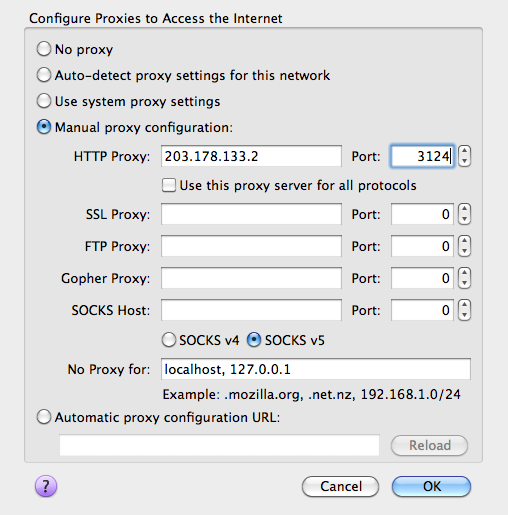 Chrome users should go to the Chrome menu (

), then Preferences, then go to the "Under The Hood" tab and click on the "Change proxy settings" button in the Network section to access the operating system's proxy settings.
Once the proxy is set up, go to Facebook.com and the browser should load over a proxy. If the proxy does not work, go back to the list and try another until one works.
After logging on to Facebook successfully, the site might tell the user that he/she is visiting from an unknown location (the location of the proxy server) and that it wants to verify the account. Just follow the steps and everything will be fine. Account verification might involve answering a captcha, answering one of the user's secret questions, or recognizing and selecting friends from pictures.