Anonymous proxies appear on the Internet constantly, often only to disappear rapidly when their owners discover the bandwidth cost.
To help users find a current anonymous proxy server, dedicated individuals maintain anonymous proxy lists.
Anonymous Proxy Server Lists
We maintain our own anonymous proxy list that users can access by clicking the Proxy Sites button on the top menu.
In addition, these other websites also maintain frequently updated lists of anonymous proxy servers on the Internet: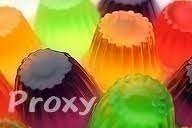 The anonymous web proxies on these lists can be configured in the web browser manually or one of the many client applications available for anonymous web proxy configuration can be automatically configured.
Add an Anonymous Server List to the Website
Users who want an anonymous proxy list on their own website should paste this short JavaScript on it:
<script language='JavaScript' src='http://www.megaproxylist.com/com_proxies/new-proxy-list.php'></script>