ETOM (Enhanced Telecom Operations Map) is the most widely used set of standards for the world communications market. The standard focuses on the latest TELECOM technologies such as Internet telephony, broadband, and DSL. It is regularly updated to keep up with Internet standards/specifications and hardware updates.
What is ETOM?
ETOM was created to give telecom companies a checklist to ensure that they follow the best enterprise practices. The topics in the ETOM are divided into three categories: product, strategy, and infrastructure. Within these categories, guidance is provided on marketing, services, resource development, supply chain development, and management across all of these areas. The ETOM standard also covers operations including customer relationship, service, resources, and supply partner relationships management. ETOM's Enterprise section gives tips on strategic and enterprise planning, risk management, and financial, asset, and knowledge management.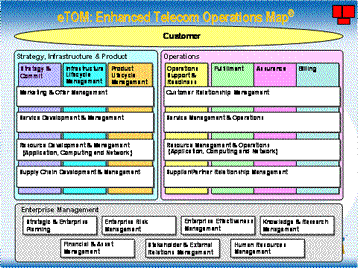 When was ETOM Created?
The ETOM standard was originally created in 1995 through the work of more than 35 TMF companies. The ITU formally approved it in 2004 and has used it to guide the development and use of technologies in the New Generation Operations System and Software (NGOSS). The ETOM is considered a complement to the Information Technology Infrastructure Library (ITIL).
How does ETOM Work?
ETOM also extends to laying out the architecture for creating business practices that follow customer centric processes such as the initial sale, customer support, billing, marketing, follow-up customer support, and after-service support. The ETOM includes strategies known for achieving success within these categories and treats all steps of the process equally. The current version of the ETOM also includes strategies to maintain and improve business-to-business relationships.