A firewall is a software component that restricts unauthorized inward network access. It allows outward information flow. It is set up to control traffic flow between two networks by configured permissions like Allow, Deny, Block, Encrypt, etc. It is normally employed to avoid illegal access to personal computers or corporate networks from external unsafe entities like the Internet.
The firewall scrutinizes all the information flowing in and out of the network. If some data do not meet the necessary criterion, it is denied access into the network. A firewall's key function is to legalize the stream of traffic among computer networks of different trust levels. Similar to the physical firewalls installed in buildings that help limit the spread of fire, the software firewalls also help control network intrusions. A poorly configured firewall is useless. By default, the "deny" rule-set should be applied and allow only those applications to communicate for which the permissions have been explicitly set to "Allow." However, such configurations require expertise understanding. Due to the lack of such expertise understanding, many corporate networks keep "Allow" as their default rule-set.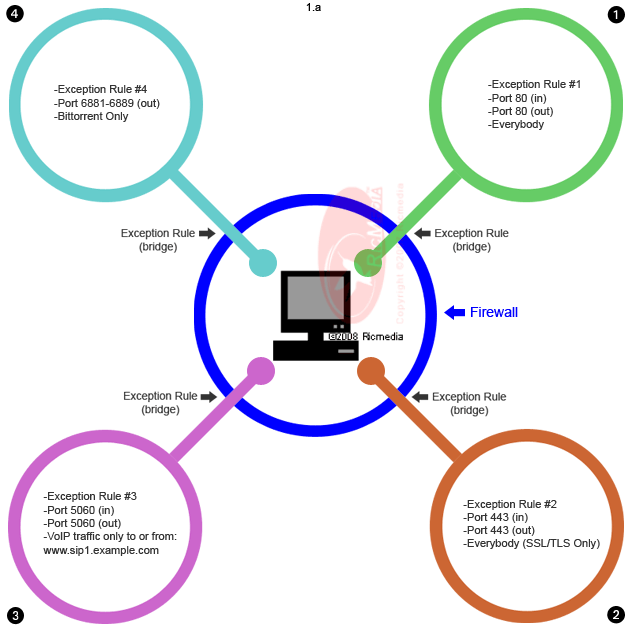 There are numerous firewall scrutiny techniques. An easy technique is to examine the incoming requests to make sure they arrive from trusted (formerly recognized) domain name and networks. Many companies develop firewall software. Firewall software features comprise of logging and reporting, routine alerts at specified points of intrusion, and a graphical user interface for managing the firewall software.
Types of Firewalls
The most basic firewall classifications falls into Hardware firewalls or Software firewalls. Hardware firewalls are considered external to the system, whereas Software firewalls are internal.
Hardware FirewallsHardware firewalls are normally situated between the network and the connecting cable/modem. These are external hardware devices usually called Network firewalls. Many a times, network devices called 'Routers' include firewall security. Hardware firewalls provide a high external defense level from intrusions since they are separate devices and possess their own operating environment, offering an extra line of defense.

Software firewalls use becomes less important if a strong Hardware firewall is implemented. The main fallback for Hardware firewall is they are quite expensive when compared to Software firewalls.

Software FirewallsSoftware firewalls are basically software components that are internal to the computer system. They work hand-in-hand with the computer's operating system. Nowadays, many operating systems are shipped with an inbuilt software firewall. Numerous firewall packages that various companies develop are on the market.

The disadvantage to software firewalls is that they will only guard the computer they are installed on, not the entire network. Hence, it necessitates every computer to have a software firewall installed on it. They are comparatively less expensive then the Hardware firewalls.
How Firewalls Work
Different kinds of firewalls function differently. They scrutinize, examine, and control the network traffic in numerous ways depending on their software architecture. Below are firewalls that work in different ways: