The LC connector is a small form factor fiber optic connector. The LC connector resembles a small SC connector. Lucent Technologies first developed the LC connector for TelCo environment uses. Hence, LC stands for Lucent Connectors.
The LC connector has been standardized as FOCIS 10 (Fiber Optic Connector Intermateability Standards) in EIA/TIA-604-10. The LC connector uses a 1.25 mm ferrule, half the dimension of the ST ferrule or a regular ceramic ferrule connector. The LC gives excellent performance and is greatly preferred for single mode transmission.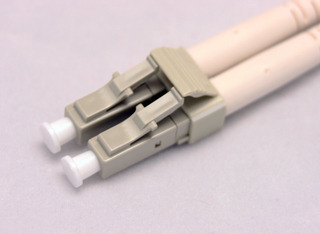 Features of LC Connectors
Half the dimension of regular connectors
Push & pull mechanism like RJ connectors
Single set design
Polarized
Complies with industry standards
Detachable clips for simplex as well as duplex connectors
LC Connectors decrease the room by roughly 50% all over the network. They make things easier for movements, additions, and modifications, thus preventing additional expenses. The LC Connector uses an enhanced edition of the well-known, user friendly RJ-style telephone connector that offers a reassuring clear click when connected. The latest single set design improves the connector's strength and complies with side-load requirements of standard 2.5 mm connectors. Jumper LC connectors are equipped with detachable clips, making it easier to rectify polarity inaccuracies during termination or while duplexing simplex connectors in the field. The distinctive mixture of small sizes and the click of connectivity make the LC Connector a perfect pick for today's high performance networks.
LC connector applications include Telecommunications networks, Local area networks, Data processing networks, Cable television, Fiber-to-the-home, and Premises distribution.