This Ethernet cable can be used to connect a network interface card (NIC) to an Ethernet switch or hub. They transmit data using the Ethernet protocol. Ethernet cables have RJ-45 jacks on both ends, each with 8 pins (They look similar to telephone jacks, which use 4 pins or 6 pins).
Equipment using an Ethernet cable is referred to as wired. The most popular Ethernet cable in current use, Category 5 or CAT5, supports both traditional and Fast Ethernet. The Category 5e (CAT5e) cable supports Gigabit Ethernet.
This cable is compatible with 10Base-T, 100Base-TX, 100VG-Anylan and 1000Base-T.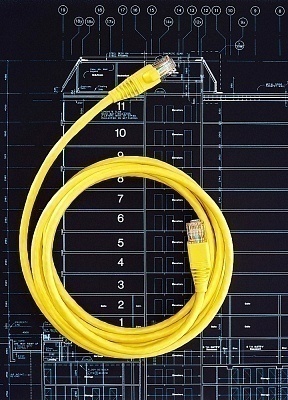 RJ-45 Male Connector
Ethernet Cable Pinout
| Name | Color | Pin |
| --- | --- | --- |
| TX+ | White/Orange | 1 |
| TX- | Orange | 2 |
| RX+ | White/Green | 3 |
| – | Blue | 4 |
| – | White/Blue | 5 |
| RX- | Green | 6 |
| – | White/Brown | 7 |
| – | Brown | 8 |
Related Articles on Ethernet Technology