Are viruses and malware affecting your computer efficiency? Try HijackThis.
HijackThis, popularly known in the computing world as HJT, is one of the most effective spyware and malware removal software tool available for detecting and removing harmful viruses, spyware, worms, Trojans and other pests affecting Microsoft Windows. This program was originally developed by Merijn Bellekom, a Dutch programmer and an anti-spyware specialist who had later sold it to Trend Micro.
The most common approach employed by notable anti-virus software available in the market such as Norton Antivirus or Ad-Aware to detect new viruses, malware and Trojans infecting a computer system is that these software rely on known spyware and malicious program database. One disadvantage of this diagnosis method is that these systems are incapable of detecting or quarantining files infected with new viruses and spyware programs. Due to this reason, antivirus software manufacturers employ software professionals who can discover new viruses and other harmful programs that are appearing everyday and include them in the database. Due to this reason, these antivirus programs need to be updated almost on a daily basis so as to ensure complete safety and security.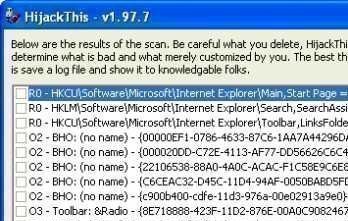 On the other hand, HijackThis operates on an entirely different and heuristic manner. In this, the antivirus software scans through the entire computer including all the system files and registry. At the end, all the entries that are found to be seemingly malicious or harmful are displayed in the form of a report that one can easily view and understand. For differentiating between infected and uninfected files, HijackThis utilizes a known spyware-free environment for its diagnosis. Also, the program can even track the traces that have been left behind by previous spyware or virus programs. The advantage of using HJK is that the user or the technician has complete control over the system. Once the reports are displayed, the user can then determine the files that are required in the system and can remove those that are unwanted.
Now, HijackThis does have one significant disadvantage, particularly for individuals who are completely unaware or lack experience with respect to various software and related program files. Hence, such individuals should be extremely selective and exercise caution while using HijackThis. People, who are unable to comprehend the entries displayed in the HijackThis log reports should never attempt to delete any files or remove infections all by self. The reason is HijackThis cannot accurately differentiate between items that are legitimate and those that are unwanted. Hence, some of the files that are reported as infected might be extremely important for the operating system to function. One small mistake can leave your entire computer and its peripherals unbootable and even dysfunctional.
However, advanced versions of HijackThis do have a remedy for this problem. In this software, it is possible to create backups of files and registries that have been removed. These backups can be used to restore the system in case of any mistake. Also, these versions come along with certain other additional tools such as task manager, hosts file editor and alternate data stream scanner that are extremely useful and supportive in providing recommendations to user. Most importantly, the software can be downloaded for free.