Solidworks refers to a powerful 3D modeling program used in Computer Aided Design (CAD). The models produced from it are used in a number of ways to simulate the behavior of the real part or assembly as well as checking basic geometry. It is also used for advanced part assembly, physical dynamic calculation, surfacing, enhancing large assembly performance, and many other applications. The following is a tutorial that one may use to learn basic facts on creating solid features needed to build the major functional parts and how to assemble them. One is advised to try the tutorials and other help topics under the help menu. It is easy to learn how to use Solidworks.
Because SolidWorks tends to be complex, most manufacturers produce educational versions of the software that are used for training in colleges and other institutions. These educational software forms a significant part of the SolidWorks tutorials packages. They help the students familiarize themselves with the features and facilities of SolidWorks and are used as teaching aids. Students interested in SolidWorks may be pleased to know that there are two categories of careers open to them with this kind of training. One is engineering and another one is being a designer, to design mechanical solutions to engineering problems! One may also be a drafter, with deep knowledge of the software that produces the design and the associated information necessary to put the designs in practice. If one is preparing for such a career or thinking about CAD, getting one's hands on SolidWorks tutorials is always a good start.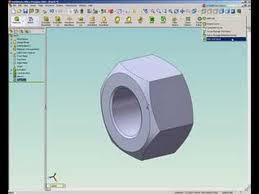 SolidWorks Resources
The Internet is awash with many complementary SolidWorks resources that can be used to assist in the learning and teaching of SolidWorks and new tips and tricks. Here are some industry, commercial, and academic resources:
SolidWorks Express Newsletter Consists of resources from people from the commercial sector.
SolidSolutions Magazine: This one is meant for people who use SolidWorks extensively.
SolidWorks Animator Guide and Tutorial. Sample tutorials for developing skills using Animators and Photoworks.
www.3Dcontent.com: this is a site that offers huge assortments of parks in SolidWorks (and other 3d CAD formats) and student design projects. The site contains several downloads.
COSMOS technical briefs This site contains White Papers on various COSMOS products and how they are used to solve engineering problems.
SolidWorks Reading Room: Features Articles, tutorial reviews, and news about SolidWorks.
CADjunkie: Contains a collection of videos, including many SolidWork tutorials, presentations and the like.
Teachers Guide : Helps to teach SolidWorks and COSMOS in schools. The guide has a number of lessons with corresponding pages in the Students Workbook.
Find more SolidWorks tutorials here.