Typing is a must-have skill that we should all develop. It is an essential skill in most businesses today, especially if you are looking for a white collar job.  Whether you are a student, a casual computer user whose need to type starts and ends with keying out a few emails and chat messages, or if your job profile requires you to type long hours on the keyboard, picking up good typing skills can go a long way in simplifying the task at hand.  Most people do not have the time or inclination to take up typing classes at an institute. Fortunately, the Internet comes up with a solution – online typing tutors. A few minutes of daily practice using the various free/paid nifty typing programs available online will take your typing skills quite a few rungs up the ladder.
There are different programs for both beginners and for children, these will show you where to position your fingers, how to start typing and include many fun games to hold your interest while learning. In most of them, you will find exercises that will help you strengthen you fingers, especially your little or pinkie finger that is slightly weaker than the others;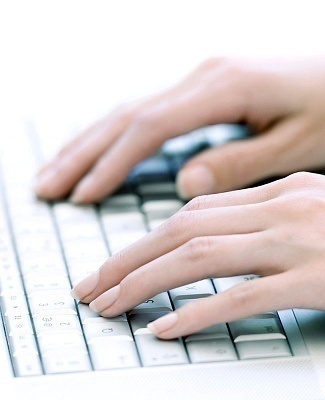 Here's a look at some of the options available:
This is a free software which will automatically adjust to your skill level and has lessons suited for beginners and intermediate level students. As your typing skills progress, the typing lessons become more challenging. There are typing certificates that you can acquire upon completing the course as well. All that you need to do to get started is complete the free registration.
This is another free site which includes 14 free typing lessons for beginners. This is an excellent resource for beginners to practice and hone their skills. You will also find a second version of the typing tutor which is an improved version of Mr. Kent's original free typing tutor. You can adjust your skill level to fast, medium or slow.
The site has a free trial, but you will need to subscribe for the full online courses. The site helps you test your abilities on realistic exercises, which are chosen specifically for their educational value. There is no need to install or download anything; you can access the courses online. There are customized exercises for every row, difficult letters and special characters.
Typing Master Pro is a typing tutor that will help you enhance your typing speed. In this site you will find several products such as a Typing Master Pro for Windows, Typing Master Online web course and a Quick Phrase typing tool, to suit all varieties of learners.  
This online typing tutorial requires a free registration for access to the complete content, but allows you to sample some free tutorials and FAQs, before the registration. You can sign up for a free trial account and then your online training will need no installation and will run from your browser. There are personalized training programs for all age groups. They have special courses for individuals, schools, students and for people with special needs as well, such as one hand typing, special exercises and training modules.
This is not a free typing tutor program, but offers a free preview of its features.There are various exercises that concentrate on the left and the right side of the keyboard individually, and incorporate tools such as PowerPoint presentations and PDF documents to help the students learn on their own. This program also makes use of word association to help the students memorize each key on the keyboard.
You can find free typing courses in Spanish, French, German, Italian and Portuguese. There are 27 lessons which will guide you step-by-step from the beginning. There are several web-based courses that require no download at all. The typing course and registration is free, you can take a look at the lessons available without registering as well. The lessons are simple and step by step.
This is another free typing tutor that has online keyboarding tutorials to suit all skill levels. You can also get a certificate from the Typing Institute of America, after clearing the basic tests.
This site consists of 60 typing lessons, designed to make the learning process easy and efficient. These typing tutorials have been taken up by many K12 schools in the US as a learning method for their typing classes. The registration is compulsory, and the tutorials are free.
You can go thought these websites and pick the one that suits you best. Here are some tips to keep in mind before you begin your typing lessons:
1.      Memorizing the alphabets on the key board is a must and probably the most laborious task of all. Try to avoid looking at the keyboard at all times, and type simply out of memory. It is a proven fact that we type faster when we don't look at the keyboard.
2.      Start by memorizing the middle row, then the top row and finally the bottom row.
3.      After you have memorized all the alphabets, you can start by typing small and simple lines with accuracy; the next step would be to type long sentences without any mistakes. Afterwards you can concentrate on increasing your speed with accuracy.
4.      Spend a few minutes in front of your computer on a daily basis, and within a few weeks you will find a great difference in your speed, and in a few months you will be typing away like a professional.
After you have taken a few typing lessons and are confident about your typing, try taking a free typing speed test to track your progress.