Fonts are used to style text on all digital devices. Every font gives a distinct design and typography to a body of text. They are used on computers, mobile devices, embedded devices and print materials.
There are thousands of fonts available on the Internet, few paid and many free. These are available in different formats like TrueType Font (TTF), OpenType Font (OTF), Web Open Font Format (WOFF), and Embedded OpenType Font (EOT). There are many more but these are the most common and widely used. Each of these types has its own characteristic and specific use.
The most common way to download a font is to visit an online font repository and download. The download will mostly give you a zip file containing the font in either of the above specified format. Many websites give a choice to select the formats, and many don't.  The downloaded font can then be installed in your computer to be used with applications or embedded into a web page.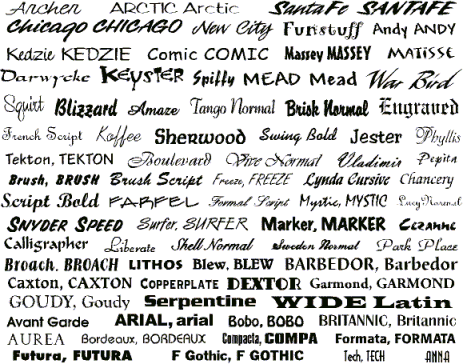 Let's take a look at ways to download fonts.
DaFont.com
DaFont.com is a wonderful repository of fonts from where you can download for free. They have thousands of fonts grouped into various category like Fancy, Foreign Look, Techno, Script, Dingbats, Holiday and more.
To download a font from DaFont, browse through the font list. Click on a specific font you did like to download. This page will give a preview of all the alphabets, numbers and symbols. Click the Download button toward the right of the font title. You will be asked to save a zip file, save it to your hard drive. You will get the font files inside the downloaded zip. You can install this font in your computer or use it in your web pages.
Another similar site to DaFont is FontSquirrel. This website also has a good collection of fonts for downloading. They are free to use, commercially too.
Google Fonts
Google Fonts is a free service by Google where they offer thousands of open-source web fonts to be used in your websites or web applications. Because all the fonts are open-source, you can use, share and modify them for free.
There are two ways to download and use Google Fonts. First, you can use them directly into your web pages via their API. Second, you can download them to your hard drive to install or use them wherever you like.
To use them via their API: Browse through the fonts. Click on the Quick Use button on the font you did like to use. Follow the instructions of the Add this code to your website and Integrate the fonts into your CSS steps.
To download to hard drive: Browse through the fonts. Click the Add to Collection button for whichever fonts you like to download. Chosen fonts will be added to the Collection panel near the footer. Once you are done adding, click the Download (icon with down-faced arrow) button near the top-right of the screen. A pop-up will appear. Click the .zip file option where it says Download the font families in your collection as .zip file. Save the zip file to your hard drive. You can install these fonts in your computer or use them in your web pages.
Which font do you love the most and why?