An intranet is usually described as an internal or restricted access network that is similar to functionality as the internet, but is only available to an organization internally. For instance if your organization would like to share specific information such as documents, any current announcements, new product details etc, but only allow those computers in the organization access to this information, you would use an intranet.
In order to have an intranet, the computers in the network do not have to have a normal Internet connection. However, since most organization have both an intranet and Internet access (sometimes called extranet), the organization will provide a gateway such as a firewall, along with other types of ways to identify the user such as authentication or encryption data or the use of VPN (virtual private networks). With these added provisions, individuals with clearance to access the intranet from outside sources, using the Internet can. For instance an off site employee can have access to the intranet and be able to download specific reports or data.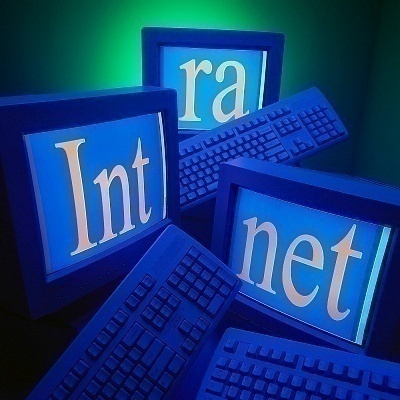 Advantages of an Intranet
Intranets can enhance the productivity at an organization. They can be used for many things dealing with communication. For instance, intranets can be helpful to organizations large and small, by giving it the ability to use intranets as delivery mechanisms for applications, drivers and collaborative projects.
An intranet can also help associates find data quickly and easy through a browser interface. For instance, your organization might have medical insurance information on the intranet, which workers can easily navigate and access. This can reduce the amount of time that it takes to contact an individual at the HR Dept.. Instead, information is at the fingertips of all associates. Another great way intranets can enhance productivity is that information is available when a worker needs it, not just when people with the information send it out via email.
Disadvantages of an Intranet
While for the most, an intranet is very advantageous to any organization, there are a few downsides including the fact that management does need to give up control of specific information. While usually this problem can be minimized with proper foresight, problems do occur.
Security issues might be another disadvantage with an intranet. For instance, an employee might have posted sensitive information for all employees to see. Another issue might be the fact that there is too much information. Information overload does exist and can take place when too much data is up on the intranet. This makes it very difficult for employees to navigate and find data that is meaningful or that they need.