Viewing one's house via a satellite is very easy now with programs such as MapQuest.com and Maps.Google.com. Both of these websites provide a user the chance to type in their address and then zoom in on the house with an aerial view taken by a satellite. Google Maps can zoom in a bit more than MapQuest, but they both allow for someone to view their own house.
To begin with, open up either MapQuest or Google Maps. The choice is entirely yours. Once the site has loaded, begin to punch in your address. With MapQuest, they separate each entity–Address, City, State and Zip–into its own boxes. On Google Maps, you have to separate it based with a comma. So, an address on Google Maps would look like this: 1234 Main Street, Cool Town, NY, 12345. So long as the address has commas separating it, Google will be able to pinpoint the address.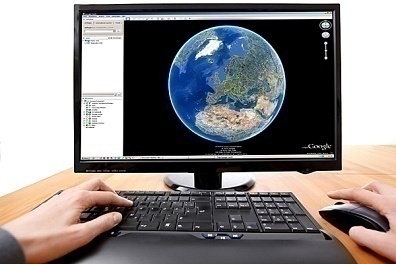 Once the address has loaded, click either Satellite or Aerial depending on if you are using Google Maps or MapQuest respectively. What you should see are the streets, the trees and then the different houses. Because you typed in the exact address, there should be either a star on the road in front of the house for MapQuest or a letter A on top of the house for Google Maps. That is your house.
Hit the zoom button and go closer. For MapQuest, it might say "Data Currently Not Available" when you try to zoom in very close. This might just be because of the specific region you're searching. Google Maps, though, tends to get closer. Zoom in and look at your house. The only downfall to this is that you can't view anything other than the roof.