An intranet is an internal or restricted access network, it is very similar to the functions of the normal Internet (which is sometimes is referred to as the extranet). Organizations that would like to share applications, documents and data only among themselves can create an intranet usually with ease. While intranets are usually accessed by computers within the intranet, outside users such as off site employees can usually access the intranet using special authentication codes and tools.
It is extremely easy to search the intranet primarily because the intranet uses many of the same technologies that the Internet does. In fact, the driving force to technology upgrades usually comes from the internet. For instance, the Internet was only for text at one time; however, today it serves up more than just text, the web is full of images, audio files and video. Intranets also grow as technology improves. A lot of the innovations that have spurred growth in the Internet have also found their way into use on intranets.
Search the Intranet
Searching your organizations intranet is very easy; you can even use your regular Internet browser such as MS Internet Explorer or Firefox. Instead of searching the outside internet, you can ask the browser to only search the computers, drives, folders and files that are included in your organization's intranet.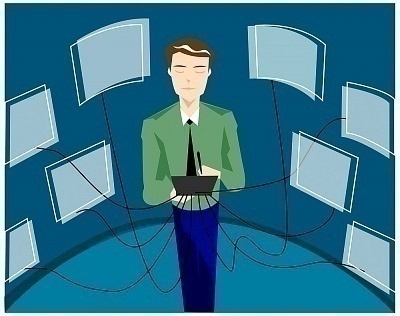 Enterprise Information Portals
Enterprise Information Portals are one of the most popular ways in which enterprises can allow their employees and customers to search and access corporate information. It is a single gateway for users, such as employees, customers and company's partners to log into and retrieve corporate information, company history and other services or resources.
One of the ways to make your intranet easy to search for and for your employees or organizational members to find data that is meaningful is to employ content and document management system usually through the use of third party enterprise information portals (EIP).
Usually the main job of enterprise information portals are to enhance the ease and streamline the effectiveness of life cycle of information, mainly document creation, approval of a document or content to be available on the organization's intranet, making sure the right version of an application or document that is on the intranet is the one that is authorized to be posted
Spider and Search Applications
Besides content and document management systems other types of applications can be used to make the searching experience extremely easy. For instance, there are many products available that will spider your intranet drives folders and files and make it easier for you to search for documents or content with ease. Using the same types of technology that the outside external Internet uses, you can make your intranet just as effective when trying to search, navigate and locate data.