With the increasing online attacks and web hacking incidents, it is very important for all web browsers to provide comprehensive and integrated security features. These security features will help the users to be safe and secure while browsing the Internet.
Microsoft injects new security components and features with every release of their flagship browser, Internet Explorer.  With Internet Explorer 10, Microsoft introduced a strong security feature called Enhanced Protected Mode. This feature helps in keeping your web data safe and secure. It patches all vulnerabilities in the browser and any installed add-ons.
What does Enhanced Protected Mode include?
Enhanced Protected Mode in Internet Explorer is a combination of multiple security and protection techniques. Use of these varied techniques help strengthen the browser's security and tackle all possible hacks/attacks.
Few of the techniques that the Enhanced Protected Mode employs are:
Security for socially engineered attacks
Security from attacks designed to exploit vulnerabilities in Web sites
Security from attacks designed to exploit the browser or operating system
How to enable Enhanced Protected Mode?
It's important that you enable Enhanced Protected Mode in Internet Explorer on your computer. Below are the steps to achieve the same.
Note: Enhanced Protected Mode is only available in Internet Explorer 10 and higher.
Step 1: Open Internet Explorer.
Step 2: Click the gear-shaped icon (Tools) on the top-right corner. Select Internet Options.
Step 3: Select the Advanced tab on top.
Step 4: In the section called Settings, search for the Enable Enhanced Protected Mode option. Check/select it.
Step 5: Click Apply. Click OK.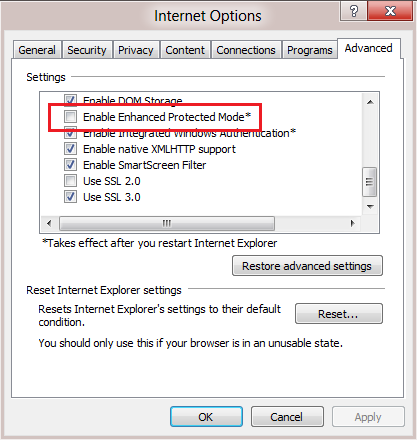 By enabling Enhanced Protected Mode, all the incompatible plugins will be disabled thus enhancing browser security.