As the number of home computer users creating local networks increases, so does the number of Operating Systems (OS's) used in homes or small business. As long as the version of Windows OS running on the network is Windows XP SP2 or newer, all of the computers should be able to be linked and information shared among them on the network. Some Windows users will encounter error code 0x80070035 when attempting to access remote resources on their network. There are several ways to figure out the problem in order to troubleshoot it and establish shared connections on the network.
How to Fix Windows Error 0x80070035
Situation 1: Computer 1 sees Computer 2, Computer 2 shows the logon screen when accessing Computer 1.
Step 1 – Make an account with the same username on Computer 2 as Computer 1.
Situation 2: Cannot see all of the networked computers.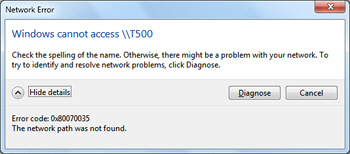 Step 1 – Verify that all computers have NetBIOS enabled using TCP/IP networking.
Step 2 – Ensure that the firewall settings on the computers that cannot be seen do not have "sharing" blocked.
Step 3 – Ensure all computers have "File Sharing" enabled.
Situation 3: The Vista OS on Computer 1 shows all shared computers but the Vista OS on Computer 2 does not.
Step 1 – Turn on Network Discovery.
Situation 4: When browsing the network, error 0x80070035 is displayed and states that the network path cannot be found.
Step 1 – Ensure at least one file or folder is shared.
Step 2 – Ensure file and printer sharing for "Microsoft Network and Client for Microsoft Networks" is enabled.
Step 3 – Check whether any firewall settings are selected that prevent network sharing.
How to Ensure Network Discovery is Turned On
Step 1 – Open the "Advanced Sharing" settings by opening "Control Panel." Type "Network" in the search field and open the "Network and Sharing Center."
Step 2 – Select "Change Advanced Sharing Settings" located on the left-hand window of the subsequent display.
Step 3 – Expand the current network view by clicking the "chevron." If not selected, click "Turn on network discovery" and "Save." A request for the computer administrator password may be made in order to allow the user to modify the computer's network configuration.
Step 4 – Check the other computers on the network to ensure Network Discovery is enabled to help fix error 0x80070035.