Blue Screen Stop 0x00000024 refers to a BSOD (Blue Screen of Death) error message that is displayed whenever there is a conflict with the NTFS.sys file, which is the file responsible for reading and writing to NTFS hard drives. A number of problems can cause this error, with the most common reason being that the user's hard drive has failed or has become corrupted.
What Causes Blue Screen Stop 0x00000024?
While it is possible that software that is incompatible with NTFS systems can corrupt or negatively impact the NTFS.sys file, the most common reason a user would receive the 0x00000024 error message is that his/her hard drive has stopped working properly. The NTFS.sys driver could also become corrupted because malicious software that has infiltrated the Windows Registry attacks it.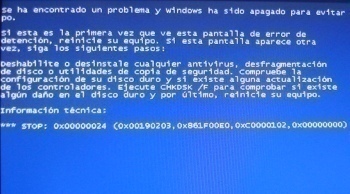 How to Fix Blue Screen Stop 0x00000024
If the user is able to access his/her computer after receiving a 0x00000024 error message, he/she should run a registry cleaner immediately to ensure that malicious software has not damaged the files necessary to run Windows. If the registry cleaner does not find anything, the user can run the chkdsk program by opening the Start Menu, opening the "Run" application, and entering "chkdsk." The chkdsk application will search the computer in order to ensure that all devices are working properly. If the chkdsk application returns any results, the user should restart the application and enter "chkdsk /f" to fix any issues that it found. If this does not work, the user can attempt to restore his/her computer to a previous time by running the System Restore feature found in the Windows Control Panel. If none of these methods works, the user may need to backup his/her files and reformat or replace the hard drive.