The Not a valid Win32 application error message may occur in a number of different scenarios. This indicates that an executable file, application, or program is not able to communicate correctly with the Windows API. The error may occur during or after the installation of an application, program, or in certain cases – hardware. The factors that lead to this error are as follows:
Corrupt Files

You may encounter this error message, when the file or program you are trying to access is missing or damaged. Windows may not be able to execute the file properly. In case of downloaded files, corruption may occur during the download itself. In such a scenario, you will have to download and run the file again.
You might also face the same error message when trying to install a program from a CD, or even after installation of the program on your computer. This is because the CD might be damaged or it might have to be cleaned.
Hard drive corruption may also be a reason for this error. It might result in programs being unable to be read correctly from the hard drive. In such a scenario, it is advisable to run a scandisk and defrag on the hard drive to test for any errors. Additionally, you may also run a diagnostic test on the hard drive, which is usually provided in-built by the hard drive vendor.
Incompatible Software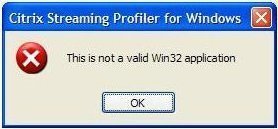 At times certain software applications or programs may not be designed for usage with Windows, or the version may be an older one. For example, software created for Windows 32 bit version will not work for Windows 64 bit version. In such cases, the error may be generated by Windows.
Viruses and Spyware
This error is sometimes caused by a virus, worm, Trojan, spyware or any kind of malware file. It is advisable to run a complete system scan to isolate and delete such files.
Corrupt System Files
System files or dll files are usually protected and hidden as they are essential to the proper functioning of the operating system; however at times even these files are susceptible to corruption. To verify the reliability of such system files, run the sfc /scannow command. This command scans all the protected files to verify their versions. If a protected file has been corrupted or overwritten, it will recover the correct version of the affected file from the Windows installation source files and remove the incorrect file.