A Windows Protection Error such as "Initializing device <device name> Windows Protection Error" can be received when either first starting Microsoft Windows or when shutting down your computer. The computer might then ask you restart the system.
Windows Protection Errors are usually received by users of Windows 95, 98, and ME and these errors can occur for a number of reasons:
An error resulting from damage to the system's registry
An incompatibility occurring between the BIOS and a device attached to the computer
A problem with the cache system
A problem with memory
A virus
An address conflict or virtual driver conflict
These are just some of the main reasons why a Windows Protection Error might occur.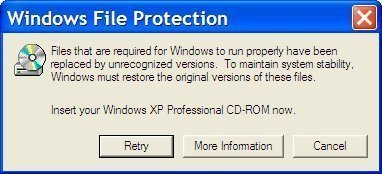 Repairing a Windows Protection Error
Repairing Windows Protection Errors caused by Installing Hardware or Software
When a Windows Protection Error is received after changing the software or hardware on a computer, the first thing to do is reboot the computer, and enter Safe Mode. In Safe Mode, try to undo the last task completed. This can be accomplished by deleting recently installed software, or by removing a recently attached hardware device. While in Safe Mode it is also a good idea to run your anti-virus program to clean up any viruses, which may be present. Then, reboot the computer and see if the Windows Protection Error recurs.
Repairing Windows Protection Errors caused by Drivers and Startup Software
It is also possible to repair Windows Protection Errors using the "msconfig" command.
Click the <Start> button
Click the <Run> button
Type "msconfig" into the Run window that opens
Click <OK>
Select the General tab when the System Configuration Utility window opens
Go to Selective Startup at the bottom of the window
Select or deselect each option one by one and reboot the computer as each option is selected
Of particular importance is the "Load Startup Group Items" selection. Deselecting this option, and having the computer boot properly can narrow the problem down to startup software causing the Windows Protection Error.
Repairing Windows Protection Errors caused by problems with the Registry
The System Registry Checker can repair Windows Protection Errors caused by corruption in the registry. The System Registry Checker will scan the registry and alert you to any damage or problems within the registry.
If the System Registry Checked fails, you can also restore a previous version of your registry. This can be accomplished by booting the computer using a startup disk. At the A:> prompt use the command "scanreg /restore" to choose a date before the computer started showing the Windows Protection Error.