Peer-to-peer (P2P) file sharing is a system of sharing files directly between network users, without the assistance or interference of a central server. Files reside on computers of users all over the world and are shared bit by bit between those users directly. The decentralized nature of peer-to-peer file sharing removes the need for a central server, and removes the possibility of centralized control.
Because peer-to-peer file sharing networks do not require a central server, they are more scalable and more redundant than centralized file sharing schemes.
Peer-to-peer file sharing networks are also more resistant to legal attacks, because there is no one central entity to file a lawsuit against. To attack a peer-to-peer file sharing network, a claimant must file suits against individual network users. The emergence of BitTorrent as a standard file sharing protocol has somewhat changed this in so far as tracker operators and torrent search engines have become a primary target of legal attacks, if not for actual copyright infringement then for providing the means for it.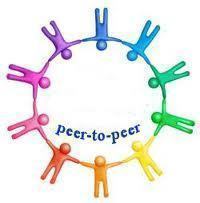 While some of the old file sharing networks are still available bittorrent is by far the most popular, most convenient and most effective way to share files. You can read more about it on our BitTorrent page. In a nutshell, file sharers first download a small torrent file and open it with a bittorrent client. Torrent file gives the client all the information it needs to connect to other file sharers which have the pieces of the file, download them, and put them together.
Notable BitTorrent clients include BitTorrent (official), uTorrent, BitComet, Vuze, BitTornado, ABC, Deluge and Transmission (for Mac and Linux).
Torrent files can be found on torrent search engines such as Torrents.to, Torrentz, Fenopy and many others. About.com maintains an up to date list of top torrent search sites.
Old Peer-to-Peer File Sharing Networks
There were many peer-to-peer file sharing networks in operation before the rise of BitTorrent, such as Gnutella, eDonkey2000 and OpenNap. Some may still be working. Below is a list of file sharing networks and some of the clients that were using them.
Old Peer-to-Peer File Sharing Clients
Peer-to-peer file sharing clients often changed support for peer-to-peer file sharing networks. A few peer-to-peer clients support more than one network.
| Peer-to-Peer Network | Clients |
| --- | --- |
| Ares | Ares |
| Blubster | Blubster |
| Filetopia | Filetopia |
| Gnutella | AquaLime, BearShare, Gnucleus, Phex, Shareaza, Xolox Ultra |
| DirectConnect | Direct Connect, DC++, Koala DC, MLDonkey, ShakesPeer, DCTC |
| Piolet | Piolet |
| Freenet | Freenet, Entropy, Frost, Freenet / Entropy Controller for Darwin |
| WASTE | WASTE |