Although the vast majority of people worldwide now have an email address, if not several email addresses, there are still a large number of people that have not yet joined the rest of us in email communication. Some people simply do not want an email address while others desire to use email but either do not have access to a computer or do not know how to setup an email address. In any case, this article will show you how to setup your very own email address by showing you examples of email services and email client software.
How To Setup An Email Address
In order to setup an email address, all you have to do is find a reputable email service that you like, click on signup, and fill out your account information such as your desired screen name which will serve as your actual email address, your password which should be a combination of letters and numbers, and your password recovery question which will allow you to reset your password if you should ever forget it. Once this brief form is completed, you will have your very own email address. Now the question is simply "Which email service do I go with?" In order to find the answer to that, simply compare the email services listed below.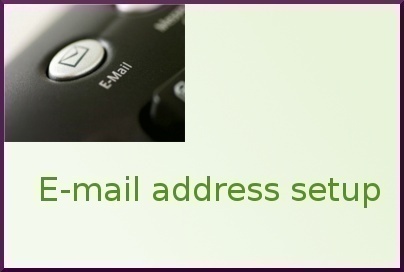 Gmail
Gmail is an extremely popular email service offered by Google that allows you to search your mail, block email addresses, and review your emails from newest to oldest. Gmail is a packaged-deal that also comes with a fully functional Google Account that includes dozens of other free Google products and services such as customized news, localized weather, and personalized stock profiles. Gmail is hands-down the most widely used email service in the world as it provides you with an ever-increasing amount of storage space and there is no limit to the number of accounts that you can have.
Yahoo Mail
Yahoo Mail is similar to Gmail but the layout is slightly different. Regardless of design, Yahoo Mail organizes your emails, displays localized news, and lets you communicate with other Yahoo users through both email and private chat functions. Yahoo Mail also gives you access to many other Yahoo features and services such as the ability to ask and answer questions in Yahoo's famous Yahoo Answers.
Hotmail
Hotmail is an email service offered by Microsoft that many people worldwide still use, love, and refuse to switch to anything else. Hotmail provides email, news, weather, stock information, Microsoft Bing search, synchronization with your Windows Live account, and many more features. Hotmail, like both Gmail and Yahoo Mail, is completely free and offers extensive email functionality that continues to serve an important role in our society.
What is an Email Client
An email client is a type of software that allows you to download emails from your online account and view them from your computer. Email clients often include other plugins and features that have nothing to do with email at all such as news and RSS feeds. Email clients let you search your mail, add multiple email account profiles, and review your previously downloaded emails without even being connected to the Internet.
Mozilla Thunderbird
Mozilla Thunderbird is one of the most used and awarded email client programs available on the Internet. Mozilla Thunderbird is completely free, allows you to install additional features through plug-in software, displays personalized news and RSS feeds, and allows you to search through your emails based on keywords listed in either the subject or sender name.
Outlook Express
Outlook Express is another email client software that is offered by Microsoft. Outlook Express used to be the preferred software for handling emails while offline but other software such as Mozilla Thunderbird has replaced it as the number one email client. Outlook Express still offers good service, however, as it includes just as many features as Mozilla Thunderbird. For instance, you can set Outlook Express as the default email client and force your computer to automatically open Outlook Express whenever you click on someone's email address.
Claws Mail
Claws Mail is designed to be user-friendly toward users who are new to the software. Claws Mail offers basically the same features that other email clients do and gives you the ability to import and export not only your emails but also your settings and some plug-ins from almost any other email client. Almost all commands for Claws Mail can be generated through keyboard shortcuts and the stable security features ensure that you are the only person reading your emails.