Changing an email address is extremely simple and only requires that the user sign up for a new email account with any email hosting service. The majority of email hosting services are very similar to one another but each one usually has a few advantages and disadvantages that distinguish it from its competitors. Once a new email account is setup, the user can import his/her address book, old emails, and settings from the previous email address. This article will explore some of the most well known email hosting services so that users can choose a service that is right for them.
Gmail
By far the most popular email hosting service, Gmail allows users to quickly setup new email accounts and connect them with a multitude of other services. Gmail, powered by Google, currently allows users to store over 7 GB of messages and is constantly allowing more space as Google sets up new servers. A Gmail account also comes with many different personalized services such as weather, finances, and news. Gmail is also automatically setup to work with the popular email client, Mozilla Thunderbird, in order for users to access their emails without using a browser.
Yahoo Mail
Yahoo Mail is another popular email hosting service and although it is not as widely used as Gmail, it offers many of the same features. For example, a Yahoo Mail account connects users with Yahoo Groups, Yahoo Answers, personalized weather, finances, news, and search results. While it is not really needed, Yahoo users can also take advantage of unlimited storage space and send files up to 25 MB. Yahoo Mail also has nifty features like the ability to drag and drop photos directly into an email message and edit them before sending.
GMX
GMX is not very popular but it should be. The service provides users with 5 GB of storage space and can collect emails from multiple email addresses such as Yahoo, Gmail, and Hotmail accounts. The program resembles Microsoft Outlook but is entirely free. GMX also has a powerful antivirus/spamware system and allows users to attach up to 50 MB of files to each message.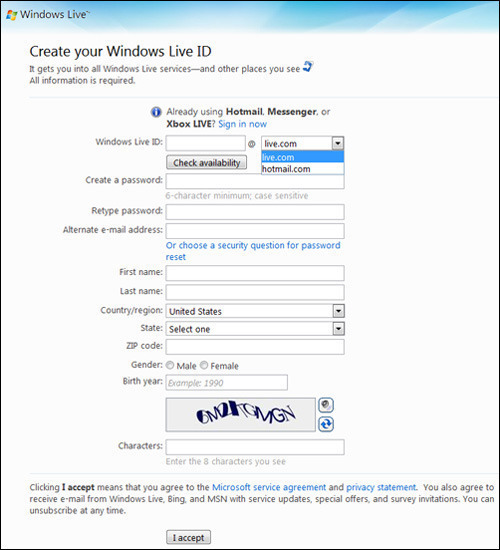 AIM Mail
AOL's instant messenger, AIM, now doubles as an email account. AIM Mail provides users with unlimited storage, advanced virus and spam protection, and a user-friendly interface for sorting out mail. AIM Mail is not used as much as other email hosting services but it provides users with exactly what they need to send and receive emails without dealing with unnecessary tools and software.
Mail.com
Mail.com has both a free email service as well as a premium service. At first glance, users can already tell that Mail.com is different from all the rest. For example, Mail.com actually lets users choose an extension for their email address from a long list of extensions that range from example.consultant.com to example.madonnafan.com. The free account allows users to transfer their address book and other contacts to their new Mail.com email account, use an unlimited storage space, and spam and virus protection. The premium account is $4/month ($20/year) and provides users with everything from the free account plus no ads, email forwarding, POP access, and 24/7 customer support.
Hotmail
Hotmail is provided by Microsoft and Windows Live, although Hotmail has been around since before Windows Live was introduced. Hotmail is an extension of MSN and one account will work with both programs. Hotmail gives users 5 GB of storage space, fast access, and powerful spam and virus protection. Hotmail has an efficient interface that looks like the Windows OS and allows users to access their emails, contacts, and other menus in the same way.
Inbox.com
Inbox.com provides users with 5 GB of storage space, although users can also pay a fee in order to increase that number to 30 GB. Inbox.com has a 30 MB file size limit and a user-friendly interface that matches most other email hosting services. Inbox.com also includes a file hosting service, a calendar, to-do list, notepad, and a photo gallery.