Outlook Express is one of the best email clients available from Microsoft and it is installed by default on operating systems such as Windows 2000 and Windows XP. You can create all your email accounts in outlook Express and start checking all your emails from one location. The email client is a great tool to compose all your messages offline and then send them in one go when you are connected to the internet. Today we learn more about Outlook Express stationary.
What is Outlook Express Stationary?
Outlook Express stationary refers to adding a colored background with animation or graphics to make the email more professional or more social. Outlook Express has a lot of stationary templates loaded that can be used for birthday invitations, business meeting mails, etc.
Creating Outlook Express Stationary
Even though you can simply access a already designed stationary by clicking on new message and then choosing a stationary design for your message, I am sure you would want to personalize your stationary designs to make your message more "you". Creating your own stationary is very easy. Don't believe me? Read on.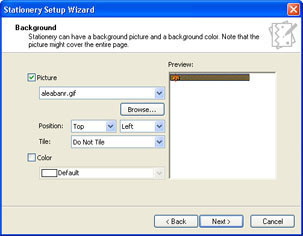 You can create your own stationary using three (3) methods:
Method 1: Create the stationary using Outlook Express stationary wizard
Open Outlook Express and create a new message by clicking "Message" on the menu bar. In the drop down menu select "New Message Using" then click "Select Stationary" from the menu.
From the "Select Stationary" folder, click the create new button to start the wizard.
Using the stationary wizard is pretty straightforward, as it all about your preferences, from which color you want your background to be, to the font style you want to use.
NOTE: To use Outlook Stationery you must set your email messages to be sent in HTML format. Hence, when you create your stationary, it must be saved in HTML format.
Method 2: Create the stationary using Outlook Express
Open Outlook Express and create a new message by "New Mail" button.
Select the "Format" then "background", here you will have 3 options; color, sound and picture. You can use one or a combination to personalize your message.
Now all you have to do is hit the browse button and go to the location where you saved that piece of music, your favorite background color or picture and use them as your own stationary
Method 3: Saving Someone Else's Stationary
In case you like stationary that someone else uses you can simply open the message and click on save as stationary in the file menu and then rename the stationary. In order for other email programs to view stationary there should be a feature to accept the messages that are formatted in HTML. Try to use minimum images in your stationary as more images will make your file bigger.