High Definition Audio, also known as HD Audio, is an audio standard created by Intel to be used on their chipsets, i.e. it is a standard for high-quality on-board audio. HD Audio was designed to replace the Audio Codec 97 (AC'97) standard that Intel released in 1997. The main achievement of the AC'97 specification was the audio quality improvement in popular sound cards by complete separation of analog and digital sections, and the raise in maximum playback sample frequency up to 48 kHz for compatibility with the audio format in DVD-Video. With the success of DVD movies encoded with Dolby Digital and DTS multi-channel audio formats, consumers had become accustomed to listening in full surround sound with anywhere from six to eight speakers. The AC'97 technology struggled to keep pace with advancements. Finally after AC'97 v2.3 Intel switched over to the HD Audio standard.
Intel HD Audio delivers significant improvements over previous generation integrated audio and sound cards. Intel HD Audio hardware is capable of delivering the support and sound quality for up to eight channels at 192 kHz/32-bit quality, while the AC'97 specification could only support six channels at 48 kHz/20-bit. HD Audio is also designed to prevent the occasional glitches or pops that other audio solutions can have by providing dedicated system bandwidth for critical audio functions. All Intel chipsets based on PCI Express bus such as the 955x, 945g and 945p Express chipsets are designed to support HD Audio. The HD audio standard enables multi-streaming i.e. it allows consumers to play back two different audio tracks simultaneously.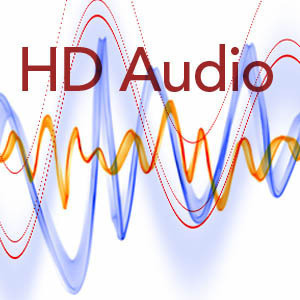 The Intel HD Audio standard also enables enhanced voice capture through the use of array microphones, giving users more accurate speech input. While other audio implementations have limited support for simple array microphones, HD Audio supports larger array microphones. It also supports Jack Retasking wherein the computer is able to configure the jack depending on the device connected. For example if a speaker is plugged into a microphone jack, the computer simply reconfigures the jack to work as a speaker jack.
Intel has also worked with Dolby Laboratories to create three audio "levels" for PCs using HD Audio:
Dolby Sound Room: This is targeted at entry level users and supports 2-channel 5.1 audio using only 2 speakers. It has a signal-to-noise ratio (SNR) of at least 75 dB.
Dolby Home Theater: This is targeted at mid-level users and supports 6-channel 5.1 audio with a signal-to-noise ratio of at least 85 dB
Dolby Master Studio: This is targeted at high level users and supports 8-channel 7.1 audio with a signal-to-noise ratio of at leas 95. This also supports music transfer through wireless LAN.