Have you ever wondered how some wireless video camera recordings leaked through the Internet when virtually no one ever touched the device itself? Technology has ushered the use of video and audio interceptors alike to intercept just any type of wireless video-audio cameras in your immediate neighborhood, just in the turn of a dial.
Using a Wireless Video Interceptor
A wireless video interceptor is used by law enforcement agencies in order to determine if a specific location is being monitored through wireless intercepting devices present nearby. Such a device is a mainstay in all government offices and is used on a regular basis to ward off possible information leak by a hidden wireless gadget.
The frequency that a simple wireless video interceptor detects ranges from 90 MHz to 2525 MHz. It will also detect the presence of any information phishers.
You do not have to undergo any technical training to be able to understand how this gadget works. Turn on the knob that lets you choose what video frequency you would possibly like to intercept in your neighborhood and wait until it gets a clear picture for you.
Depiction of Wireless Video Interceptors in Films
Many films – especially those that deal with the use of war or intelligence weaponry – have portrayed the use of wireless video interceptors that let a certain group know exactly what the other is doing.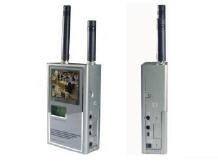 Some Interesting Features of a Wireless Video Interceptor
Wireless video interceptors come in different sizes and designs depending on the use, which explains their lurking attitude if used to watch people's information sharing activity. Most people call wireless video interceptors as complete observation systems, since they collect and record specific information just with the turn of a knob.
Today, most wireless video interceptors have long battery lives and come in different sizes and shapes. They are very flexible when it comes to being able to detect frequency ranges outside.
Amazingly, the moment you turn on the gadget, it will start scanning the area for possible video recorders or information being transmitted using gadgets within its range. Surprisingly enough, it can detect and intercept video signals as far as 1000ft!
The latest wireless video interceptors can detect multiple video interceptor formats and are able to intercept live video camera recordings in your area on the specific frequency range you are tuned up to.
Strangely enough, these gadgets have been made available to the public, which makes it very hard to combat phishing, fraud, and other illegal activities.