The IP address is a logical address assigned to a network card in order to establish communication over the network and identify the computer over it. Network administrators usually assign IP addresses based on certain rules and regulations.
Reasons to Change an IP Address
Even if someone is part of a small network routed through a single IP address, the people outside that network can only see the IP address of the gateway being used. If someone is directly connected to the Internet cloud, it is basically the same thing. That is, the user reaches out to a certain service through a certain IP address.
If someone wants to prevent a user from accessing certain services (an IRC channel, a certain forum, some websites, game servers, and so on), he/she would have to ban the user's IP address from the system. The first thing the user might want to do is change his/her IP address in order to evade the ban. Ban evasion is not recommended as it may lead to a longer ban. Users may also want to change their IP address because of spam.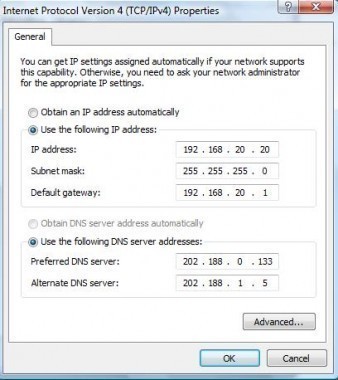 This tutorial will give a few tips on how to change an IP address.
Those using a dial-up Internet service are most likely to receive a different IP address if they disconnect and reconnect the service. The same thing applies to those using PPPoE (Point to Point Over Ethernet) based on username/password, since those are not permanent connections and they have to be reestablished every time the computer is turned on.
The real problem comes for those using cable modems/DSL/FTTH connections. Most people have static IP addresses, if not, they probably have a bound IP address based on the Ethernet MAC address, so it still will not change.
The best thing to do in this case is to call the ISP and ask what to do next. Most likely, they have a special procedure regarding IP change requests. They will either provide detailed instructions on how to change the IP address or will provide new settings that are available for immediate use.
The user will be asked for proof if he/she complains about flooding and harassment. He/she should be ready to show relevant logs extracted from the firewall and anything else that might be useful.
Once the request is approved, the user will only have to modify his/her settings if the IP address is manually configured on the equipment. If so, the user will have to change it to the new one that the ISP provided.
How to Change an IP Address
| Operating System | How to Change the IP Address |
| --- | --- |
| Windows 9x/Me users | Go to Start -> Control Panel -> Network -> Network card -> TCP/IP -> IP address |
| Windows XP/2k users | Go to Start -> Control Panel -> Network Connections -> Local Area Connection -> Properties -> Internet Protocol (TCP/IP). |
| Mac OS X users | Go to Apple menu > System Preferences > Network, select AirPort (or Ethernet if on wire), click the "Advanced" button, go to the TCP/IP tab, and click Renew DHCP Lease. |
| Red Hat Linux | Go to System Tools -> Network. Tools can also be used as 'linuxconf' or 'netcfg'tool. |
Keep in mind that different ISPs have different procedures related to IP address changes. Users who requested an IP change that was approved might not be approved so easily the next time.
Video: How to Change an IP Address under Win XP