The original Xbox gaming console was released in late 2001 in the United States and in early 2002 throughout Asia and Europe. Microsoft then replaced this console in late 2005 with the improved Xbox 360, which has significantly greater video, networking, and movie playback capabilities. Since the release of the Xbox 360, Microsoft has redesigned the console's motherboard a total of six times in order to correct flaws and make improvements to the console's over all design. A common task that arises for Xbox enthusiasts is determining the type of motherboard that their gaming console has.
What are the Types of Xbox 360 Motherboards?
The Microsoft Corporation currently uses six types of motherboards on the Xbox 360 console. The easiest way to tell the difference between Xbox 360 motherboards is to look at the unit's amperage and voltage ratings, which are displayed on the Xbox 360 motherboard's chip. These numbers along with whether the unit has an HDMI cable determines the type of Xbox 360 motherboard that is inside the gaming console.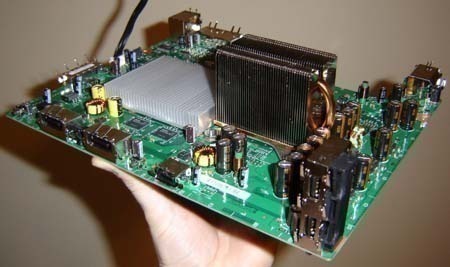 Xenon Motherboard
The Xenon motherboard was the first one used on the Xbox 360 at the time of launch. It used a 16.5 amp and 203 watt power supply, but had significant overheating and Red Ring of Death issues. Also, the Xenon model does not come with an HDMI connector in order to provide a higher quality video output for game play.
Zephyr Motherboard
The second motherboard to be used on the Xbox 360 was the Zephyr. It has the same power ratings as the Xenon, but has an HDMI connection. The Zephyr has similar overheating issues as the Xenon motherboard even though it has an extra GPU cooler not found in the Xenon.
Falcon Motherboard
The Falcon motherboard represented Microsoft's first major Xbox 360 motherboard redesign. The motherboard is rated at 175 watts, 12 V, and 14.2 amps and has a 65 nm CPU. The Falcon was first included with the Xbox 360 in late 2007 and has a larger CPU cooler and an HDMI connection.
Opus Motherboard
Microsoft only used Opus motherboards to replace Xenon motherboards that had failed. It was first issued in 2008 and has a 175 watt and 14.2 amp power rating. There is no HDMI output on the motherboard and it has a 65 nm CPU.
Jasper Motherboard
The Jasper motherboard was first released in late 2008. The easiest way to determine if an Xbox 360 has this motherboard installed is to check whether the chip has a 150 watt/12.1 Amp and 12 Volt power supply on the unit's rating. It also has a 65 nm GPU and 256 MB of internal flash memory.
Vejle Motherboard
The Vejle motherboard is installed in the Xbox 360 Slim model. It has a 45 nm system on chips rated to use 40% less power than other Xbox 360 motherboards.