HDMI stands for High Definition Multimedia Interface. It is a compact 19-pin plug and cable for connecting High-Definition video and multi-channel audio-capable as well as helping to speed the convergence of computer and consumer AV products. High Definition technology or HD has seen a rapid increase in consumer use especially with HDTVs, HD-DVD and Blu-ray players, HD camcorders and other HD components. HDMI was developed by Hitachi, Panasonic, Sony, Toshiba, Philips, Thomson and Silicon Image who came together in a conglomerate effort to simplify the task of connecting and synchronizing available HD components for the user's benefit.
HDMI is an uncompressed, all-digital signal audio/video interface with 5 Gbps of available bandwidth. It contains 19 wires wrapped in a single cable that resembles a USB wire. The primary use of the HDMI wire is to transmit digital signals from a compatible digital audio/video source such as a cable set top box, DVD player, A/V receiver or satellite receiver to a compatible digital audio and/or video monitor such as a high definition television. HDTV uses less than 1/2 of HDMI's available 5 Gbps bandwidth and thus HDMI has a lot of capacity to spare.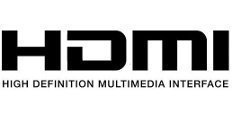 In addition to carrying uncompressed video, HDMI carry 8-channels, of 192kHz, 24-bit uncompressed audio. HDMI can also carry compressed audio formats such as Dolby or DTS.
Benefits of HDMI over traditional analog connections
HDMI transfers uncompressed all-digital audio and video and eliminates losses associated with analog quality meaning that the image quality will be of the highest degree. This is in fact its primary benefit since it is able to transmit both audio and video in one cable. It also prevents the losses caused by digital to analog conversions.
The low cost of the HDMI is one of its biggest benefits since a single HDMI connection replaces 3 video connections for high definition video and 6 audio connections for high-resolution audio.
The spare capacity of the HDMI can be used to incorporate new technology advancements.
HDMI supports uncompressed video format and still provides the quality and functionality of an all-digital interface while keeping costs low.
HDMI has the capacity to support existing high-definition video formats (720p, 1080i, and even 1080p). It also supports multiple audio formats such as stereo and multi channel surround sound. It also has the flexibility to support enhanced definition formats such as 480p, as well as standard definition formats such as NTSC or PAL.
HDMI provides increased capacity and versatility e.g. it comes with an "Auto lip-sync" ability that enables an HDTV that is HDMI 1.3-capable to automatically correct any out-of-sync video and audio latency that may occur in some HDTV sets due to complex video processing.
HDMI eliminates the complexity of using several multiple cables since it combines audio and video onto a single cable.
Standard HDMI comes in two types. Type A HDMI connector has 19 pins while Type B HDMI has 29 pins and supports resolutions as high as 1080i. this type is targeted for the movie industry.