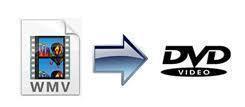 One of the most popular video formats used with computers and found on the web is WMV. Microsoft originally designed WMV (Windows Media Video) to stream video. WMV obviously plays with all current Windows Media Players and other media players such as VLC, Winamp, and DivX.
Pre Requirement
DVD/RW Optical Drive
A DVD optical drive with write technology is an essential component for burning a WMV to DVD. There are several types of DVD media that are available and some optical drives only work with one type. For instance, the DVD recordable media available include DVD+R and DVD-R. There is also DVD-RAM. Most optical drives work with all three types. However, some only work with one type of DVD media. Hence, scan the drive's specification thoroughly before purchasing.
DVD Authoring Software
The good news is that most DVD authoring software can easily burn WMV files to a DVD for later viewing. Some products that can easily burn WMV onto a DVD include Nero 6 Vision Express software, Xilsoft Video Converter, Easy WMV burner, and WinX DVD Author. Freemake Video Converter can also convert the WMV file into the appropriate DVD format and burn it in a single process. While many of these DVD authoring products are freeware, some are shareware and others have to be purchased.
Burning WMV to DVD
Most DVD authoring products are quite similar. Hence, burning a WMV file to DVD is a simple process no matter which product copies the WMV file to the DVD. Below are the most universal steps required for burning:
Launch the DVD Authoring Software
Usually, DVD authoring software also has the ability to burn files to a CD ROM. So launch the software first and choose to burn data or make a copy of a DVD. Launch the DVD authoring software from the Start Menu Program's group (if it is installed).
Load the WMV File
The WMV file to be burned onto a DVD may be on the local hard drive or on an external CD. If it is on a CD, copy the WMV file onto the local hard drive. Select/drag the WMV file into the To-Be-Burned list on the DVD authoring software. Make sure the space does not exceed the total DVD capacity.
Select Destination and Format
Select the WMV file's destination. In this case it is the DVD drive (make sure a blank DVD-R disk is inserted into the DVD-ROM drive with appropriate capacity). Some products can transform video files into other types such as WMV, VOB, etc. However, the file is being kept the same, there is no need to change the format.
Choose Burn Speed and Quality
Select the speed and quality of the WMV file to be burned. Many optical drives can burn at up to 52X, which is quite fast. Others are much slower. If there is time, choose a slower speed such as 10X or 12X as this ensures quality burning. Less speed will give better data quality, whereas more speed results in poor data quality.
Burn the DVD
Once all desired options have been selected and preferences set, click the burn button. This should start the burn process. For most large files, expect a complete DVD to burn in a time span of 10-20 minutes. The software notifies the user once burning is complete.
Verify the Burned WMV File on DVD
The best way to confirm that burning the WMV files to DVD was a success is to play the file in Windows Media Player with the WMV files from the new DVD source. If everything plays well, then the burn was successful.