FLAC (Free Lossless Audio Codec) is an open source audio file format that is royalty free and supported by a number of multi-media playback programs. The FLAC format; however, is not widely usable in popular MP3 players and gaming consoles that support music playback. As a result, a common task that arises for end-users is to convert FLAC to MP3 in order to use the music on the iPhone, Zune player, iPad, and iPod devices.
Steps to Convert FLAC to MP3 Using Bigasoft
One of the popular third party applications that support both the Windows and Mac Operating System (OS) is the Bigasoft FLAC Converter. The application is free to download and supports both single file and batch file conversions.
Step 1 – Download and install the Bigasoft FLAC Converter application.
Step 2 – Launch the Bigasoft program after download. Then, select the "Add File" menu button to import FLAC files after program launch. Alternatively, drag FLAC files onto the application interface to load them into the player.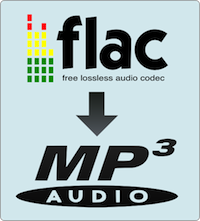 Step 3 – Select the "Profile" menu button and click the "MP3" output option. Then, click the "Browse" menu button to select the destination folder to save converted files.
Step 4 – Choose the "Start" menu button to initiate the FLAC to MP3 file conversion.
Step 5 – Click the "Open Folder" menu button to open the folder that the new MP3 file(s) are saved when the FLAC to MP3 conversion is complete.
Steps to Convert FLAC to MP3 with WinAmp
The WinAMP application is another popular tool to use for converting FLAC files to MP3. The program and FLAC library support plug-in are available to download and use for free.
Step 1 – Download and install the WinAMP application and FLAC library support plug-in on your computer.
Step 2– Launch WinAMP and select the "Plug-ins" menu option. Choose the "Output" menu selection.
Step 3 – Choose the "Null Soft Disk Writer" and then click the "Confirm" menu button.
Step 4 – Choose a folder to save the new MP3 files and move the FLAC files to this folder.
Step 5 – Select all files in the folder and then right click the group. Select the "Play With" menu option and choose the WinAMP program.
Step 6 – Select the "Play" menu button and WinAMP will then convert the files to .WAV format.
Step 7 – Launch the iTunes media player on your computer.
Step 8 – Select the "File" and "Import Folder" menu options and choose the folder created earlier that now has the .WAV files saved.
Step 9 – iTunes will now automatically convert the .WAV files to .MP3 format and will indicate status of file conversion in the iTunes status menu on the left-hand side of the iTunes media player.