Luminol is a substance that has a blue or green glow when it comes in contact with blood, certain metals, or other oxidizing agents. It is made from hydrazine and hydrogen peroxide and exhibits chemiluminescence, the process by which light is emitted from a chemical reaction. Luminol has many uses, but is most widely used for crime scene investigation and forensic science. This is because trace amounts of iron found in hemoglobin, a substance found in blood that is responsible for carrying oxygen throughout the body, activates luminol.
How Luminol Works
Luminol is initally produced by mixing a solution of hydrazine and 3-nitrophthalic acid with boiling triethylene glycol. As the water in the solution evaporates, the solution transforms into 5-nitrophthalhydrazide. The solution is then mixed with dithionite to produce luminol. Luminol can then be mixed with hydrogen peroxide and applied to an oxidizing agent to produce its chemilumenscent effects.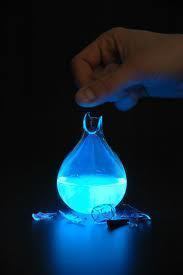 Applications
Luminol has many purposes, the most important being crime scene investigation. Luminol is sprayed evenly over an area or substance and an oxidizing agent activates it, causing blood splatters and other forms of incriminating evidence to glow blue. A photograph is then taken immediately to document any evidence that has been found. Luminol is also found in glow sticks and is used in both biochemical testing and chromatography.
Advantages
Luminol has several important advantages. It reacts with blood without being mixed with any other oxidizing agent. Luminol wears off in 30 seconds, preventing tested substances from glowing for long periods of time. It detects trace amounts of blood that are many years old, even if the bloody surface/item was cleaned. Additionally, any area that is sprayed with Luminol can be photographed to provide permanent evidence of a crime.
Disadvantages
Although Luminol is advantageous, it also has several disadvantages. Blood is not the only substance that triggers Luminol. Copper, bleach, horseradish, urine, fecal matter, and animal blood can all distort investigations that involve Luminol because they cause the Luminol to glow everywhere that these substances are located. Also, luminol prevents other tests from being performed on the substance that has been sprayed with it, although DNA can still be safely extracted for further tests.