DVB-RCS stands for Digital Video Broadcast – Return Channel Satellite.
DVB-RCS is part of the DVB standards for satellite communication, DVB-S and DVB-S2.
The purpose of DVB-RCS is to provide a return channel to enable Internet and other data services over satellite.
ViaSat's LinkStar system is one of the VSAT satellite broadband implementations which support DVB-RCS.
The DVB standards are maintained by the DVB Project, which is an industry-led consortium of over 260 broadcasters, manufacturers, network operators, software developers, regulatory bodies and others in over 35 countries.
DVB-RCS is officially defined in ETSI EN 301 790: Digital Video Broadcasting (DVB); Interaction channel for satellite distribution systems.
The DVB-RCS standard is explained in ETSI EN 101 790: Digital Video Broadcasting (DVB);Interaction channel for Satellite Distribution Systems; Guidelines for the use of EN 301 790.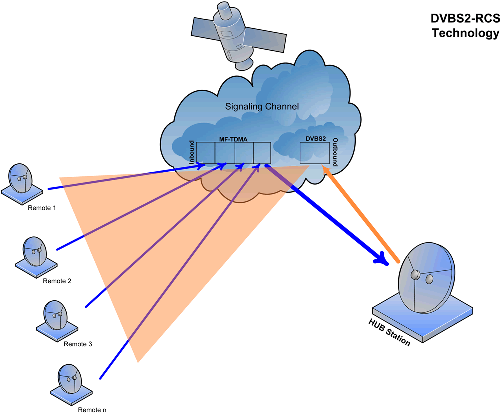 DVB standards are available on the web at the ETSI Publications Download Area.
The Future of DVB-RCS
DVB-RCS is competing against newer technologies, including: IPoS (IP over Satellite), S-DOCSIS (Satellite – Data Over Cable Service Interface Specification), and WiMAX over Satellite.