One of the biggest reasons that many small businesses fail within the first year is that many entrepreneurs jump into their new small business without any kind of financial management at all. In business, an entrepreneur cannot afford to rely solely on their own mental checkbook to manage their money. That does not, however, mean that an entrepreneur needs to hire an expensive accountant to keep track of his/her finances. With the declining economy at hand, many entrepreneurs are turning to automated accounting software to manage their expenses, losses, and ultimately, their profits. This article will list several free accounting programs that are designed specifically for freelancers and small businesses.
Express Accounts
Express Accounts is a free business accounting software that runs in both Windows and Mac OSX. Express Accounts allows the user to keep track of receipts, payments, and sales for as many companies or projects as needed. Not only can the user update the program with their latest financial information but they can also use Express Accounts to add special notes to their financial information in order to remember key facts, set goals, or leave a comment for their employees. Express Accounts has a built-in email/fax system, dozens of default reporting templates and balance sheets, and tools to meet common business needs.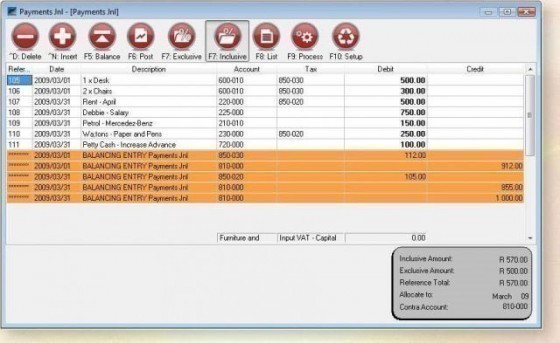 TurboCash Accounting
TurboCash is an excellent accounting program that is offered to everyone as a free, open source software under the General Public License. TurboCash includes more features than many expensive accounting programs such as stock control, VAT accounting, and bank reconciliation just to name a few. It also handles multiple companies and multiple users at the same time. TurboCash is engineered to provide businesses with everything that they need to manage and maintain their finances and is backed up by a large network of users and support representatives that all work together to help new users and make TurboCash even better.
Quickbooks Simple Start Free Edition
Quickbooks is a very popular program that offers premium accounting services to both individuals and businesses. What many people do not know, however, is that Quickbooks has a free edition of their software known as Quickbooks Simple Start Free Edition. Quickbooks Simple Start Free Edition will both prepare your small business for tax season and keep your finances up-to-date all year round. Quickbooks can handle invoices, payments, and estimations as well as keep the user organized through the use of valuable spreadsheets and balance reports.
GnuCash
GnuCash is another free business accounting software that is made for a number of operating systems including Windows, Linux, Mac OSX, Solaris, and BSD. GnuCash can be used in conjunction with multiple bank accounts and online services to manage financial balances, stock portfolios, and income and expenses for both business and personal funds. GnuCash uses basic accounting principles to guide the user through managing their money while not being overly complicated in any way. GnuCash handles double entries, stocks, bonds, mutual funds, customers, vendors, jobs, invoices, reports, graphs, scheduled transactions, and financial calculations.
Microsoft Office Accounting Express
While Microsoft Office Accounting Express is no longer distributed by Microsoft, it is still widely available from a number of sources across the Internet. It is a free program that can be used by both small businesses and home-based freelancers to manage business-related finances. The program is designed to be similar to other Microsoft Office programs and is incredibly easy to learn and use. Microsoft Office Accounting Express includes the usual features of a business accounting program but it also includes many additional tools such as online assistance for eBay sales and financial marketing functions that can help any small business increase their profit margin. Keep in mind that these extra online features are generally associated with third party services.
Free Accounting Software
Surprisingly, the next free accounting software on our list is actually called "Free Accounting Software". Free Accounting Software can easily manage inventory, receipts, payments, expenses, purchases, and profits while still providing the user with reporting features, invoice templates, and default memos. Free Accounting Software is also extremely easy to use for first-time users and has multiple wizards to guide the user through everything from installation to creating a new company project. Free Accounting Software supports multiple users and can be duplicated simply by backing up the data and transferring it to a new computer.
NolaPro Free
NolaPro Free comes in two versions: a one month online trial edition and a downloadable software that can be used for free at any time and even receives free updates for life. NolaPro Free separates business-related finances into multiple categories to provide the user with maximum efficiency. Categories include accounting, business management, ecommerce, and active directory management. Each category is focused around specific tools that aid the user in financial management. For example, NolaPro Free's business management category includes inventory tracking, order entry/shipping, and administrative control. By using NolaPro Free, users can take full advantage of every financial tool that is available to them.