What is DJ Software?
DJ software refers to any program that aids the user in creating, mixing, filtering, or editing audio. DJ software often hosts its own playlist and library functions and can import and export audio files from other sources. It usually has digital controls for mixing, blending, remixing, copying, pasting, and removing specific audio clips. DJ software generally has methods of changing the bass, tune, pitch, and sometimes even the voice of an audio clip. While there are many commercial DJ programs available, the following are all examples of free DJ software:
Mixxx
Mixxx is a powerful, free, open source DJ software that includes everything the user needs to edit songs in the same way that a physical sound mixer could. Mixxx allows users to see sound waves in a visual editor, beatmatch and crossfade songs, and stretch music. Mixxx also allows the user to change the volume, treble, pitch, and bass of the music he/she is listening to and choose songs from a built-in playlist that can import and export audio files to and from other applications, the user's hard drive, or other media sources.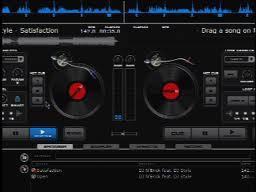 UltraMixer 2 Free Edition
UltraMixer 2 Free Edition is a free DJ software that resembles the commercial version of UltraMixer 2. UltraMixer 2 Free Edition does not have as many features as UltraMixer 2 but does include enough functions to create real-time mixes of the user's favorite music. UltraMixer 2 includes a built-in playlist, media player, and several tools to edit audio clips such as copy, paste, cut, replace, move, and fade. UltraMixer 2 Free Edition must be registered with a real email address so that the registration key can be sent to it. UltraMixer 2 Free Edition is available for Windows, Mac OS X, and Linux. Users should note, however, that in order to record mixes using UltraMixer 2 Free Edition, they need to either upgrade to the Basic Version of the software or find third party recording software.
Virtual DJ
Virtual DJ is a powerful, free DJ software that rivals turntable mixers and, in fact, has two digital turntables built in. These turntables spin as Windows plays the user's choice of music. The user has the option of tweaking the turntables to produce sound effects, importing audio files from the hard drive, and searching for music on the Internet as well as other media sources. Virtual DJ also displays samples, sound effects, recording options, and program options beneath the turntables. While Virtual DJ can be difficult for some users to learn, the software includes an instruction manual that covers each of Virtual DJ's powerful features.
Kramixer
Kramixer is a free DJ software that provides users with a user-friendly interface and the functionality that they need to create high quality mixes. Kramixer includes a graphical display for sound waves, a built-in sound recorder that saves mixes as MP3 files, and a wide variety of sound effects including echo, low pass, reverb, fade out, a robotic vocal effect, and much more. Kramixer starts up in Optimization Mode, which helps to reduce sound problems and increase sound quality. Users can switch to Full-Featured Mode in order to take advantage of the many sound effects that Kramixer has to offer.