In order for businesses and organizations to keep up with the fast pace of modern society, they must implement all sorts of software to keep track of the sheer amount of data that is constantly being transferred, manipulated, and stored. One example of such software is document management software. Document management software is used to keep track of electronic documents and pictures of paper documents that are stored in various locations. Document management software is essential to the well-being of an efficient business or organization. This article will explore several examples of document management software.
What is Document Management Software
Document management software is used to keep track of electronic documents, pictures, and an assortment of other data-related sources. Document management software is generally compiled together with a host of other data management software that keeps track of everything that a business or organization uses to turn a profit. While document management software alone does not pose an enormous function in the office, these interlinking programs and tools that combine document management with other software is essential to a well-maintained business structure. The software listed below are examples of document management software.
Document Locator
Document Locator is a user-friendly document management software that allows the user to collect emails, documents, and pictures together and then share them with the entire organization through quick and efficient sharing protocols. Document Locator decreases the amount of time that the user must spend locating customer records and sales reports so he/she can focus on more important tasks. Document Locator allows the user to run a search for a document based on keywords and then edit, share, or move the document to wherever he/she wants.
OpenDocMan
OpenDocMan is a free, open source document management software that offers many of the same features found in a prescription- or premium-based document management software. OpenDocMan features an automatic installation and upgrade tool for quick and efficient implementation on an individual computer or over a network. OpenDocMan allows the user to search for files and categorize them to save even more time. OpenDocMan also includes a web-based access scheme that allows everyone in a business to stay connected to their important documents and files.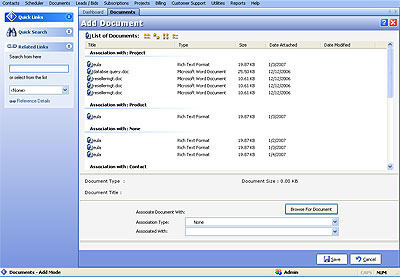 FileHold
FileHold is an affordable document management software designed for both small and large organizations and is designed to be compatible with both Microsoft Office and SharePoint so that the user doesn't have to worry about switching his/her current system in order to integrate with the software. FileHold is more than a simple document management software as it also includes tools that alert the user when a certain document needs his/her attention, such as a contract that is up for renewal. It includes search functions, scanning, web-based access, and a number of other helpful tools.
Alfresco
Alfresco is a network of content management software that is engineered to fit the consumer's needs. Specifically, their document management software is open source which allows the user to actually design his/her own document management software by editing the software's programming files. Business doesn't get any more flexible than that. Of course, their document management software is included in their network of content management software which is offered on a prescription-based fee.
Globodox
Globodox is an enterprise document management software offered by Itaz that is highly scalable and can fit to any specific need without overcomplicating matters with unnecessary features. Globodox also offers enhanced security features to keep the user's documents from ending up in the wrong hands. Alternatively, users can also take advantage of Itaz's Sohodox which is basically the same thing as Globodox but is intended for small business and freelancers rather than corporations and large organizations.
Dokmee
Dokmee is another document management software that comes in several different forms depending on the user's needs. Dokmee Enterprise Edition is designed for big businesses and large organizations while Dokmee Home Edition is designed more for freelancers and small businesses. Dokmee is available to try for free but then must be purchased. Dokmee also has multiple methods of accessing the software including a web-based application as well as a client-based program that the user can download.
InfoRouter
InfoRouter is a combination of document management software and content management software. InfoRouter allows the user to upload their documents to a central online database that the entire organization can access from anywhere in the world. InfoRouter allows the user to capture, create, classify, share, protect, retain, archive, and destroy documents at the click of a button and can alert the user when a document needs him/her to make a decision.