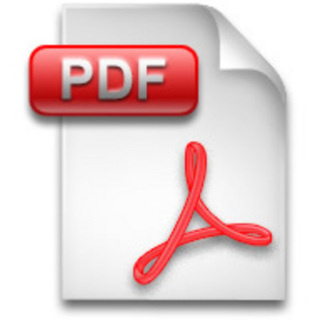 Portable Document Format (PDF) is a type of file format developed by Adobe Systems. It was first introduced in 1993 and is capable of capturing content and formatting information from any document; irrespective of the hardware and operating system platform. It was initially a proprietary file format; however PDF has been available as an open format from 2008 and adheres to the ISO/IEC 3200-1:2008 standard.
PDF file structure
A PDF document comprises of eight types of objects. They are as follows:
Numbers
Strings
Boolean
Arrays
Names
Streams
Null
Dictionaries
The common structure of a PDF file comprises of the following code modules: header, body, xref table and trailer. The header consists of one line of code that categorizes the version of PDF. The body holds all the object data such as fonts, words, images and so on. The xref table has all the indicators to the objects in the file. It specifies the number of objects in the table, object point of origin and its byte length.
Key PDF features
The most important feature of the PDF file format is that it can be viewed and printed on literally any platform inclusive of the most popular ones such as Microsoft Windows and Mac OS, and even Unix and mobile platforms. PDF offers great extensibility as well. There are a large number of software vendors that produce plug-in, creation and support tools. PDF documents protect the original file information inclusive of text, images, drawing, original graphics, 3D and other elements. PDF files can be encrypted or authenticated via digital signature. PDF document creators can set a password for opening the file. Restrictions can also be imposed even after the document is open. PDF is perhaps the most popular document format in use today. There are more than 250 million PDF documents present on the internet, which is a clear indicator of its wide application and use.
Free PDF Editors
Free PDF editors are hard to come by and are mainly limited to free trials of applications being sold. There are a few options that may or may not serve well depending on the user's needs.
Free Full PDF Editors
To get full PDF editing capabilities as opposed to annotation, the choice of completely free tools is rather limited. However, there are a few options to try that might very well work for some users:
PDFedit is a free open source pdf editor and a library for manipulating PDF documents, released under terms of GNU GPL version 2. It includes PDF manipulating library based on xpdf, GUI, set of command line tools and a PDF editor.
LibreOffice Draw, which is a part of a Free Open Source LibreOffice suite (a fork of OpenOffice.org), has full PDF editing capability. It supports simply opening a PDF file and editing both the text and graphics and it exports hybrid PDF files that can be edited again in LibreOffice, but should otherwise act as normal PDF files.
It is not perfect though. Some PDF files do not display correctly as images are sometimes out of place and text is displayed incorrectly when the font used is not installed on the system and available to LibreOffice. Regardless of these quirks, this might be the best free and full PDF editing option.
Inkscape, another Open Source tool, is primarily a vector graphics editor, but it can import PDF documents that can then be edited in full as if they were vector graphics, and then exported back into a PDF.  Text elements are converted into vector text elements, but editing them is quirky. To edit the text it is necessary to change its font within Inkscape, and then change it back if you want to keep the original font (if it is available on the system to begin with). This then allows the text to be edited properly.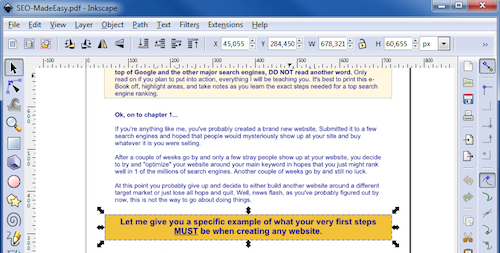 Another limitation is being able to edit only one PDF page at a time so editing a PDF with multiple pages will yield multiple one-page PDF files. Luckily these PDFs can be easily merged using FoxyUtils PDF Merge online service. Just upload the PDF files in the right order and click "Merge PDF".
To import a PDF file into Inkscape, simply open it in Inkscape and a PDF Import Settings window will be displayed. This window allows users to select the page to import for editing, precision that should be used for gradient meshes, whether to replace PDF fonts with closest-named installed fonts, and whether to embed images.
It might be possible to use a combination of LibreOffice Draw and Inkscape to get the desired results. One could be used for finer text editing while another could be used for graphics editing. Depending on the your needs and the complexity of the PDF document, you might not need to pay for a commercial PDF editor.
Free PDF Annotation Tools
There are a number of decent options to simply add notes, highlight text, or add text over the PDF file.
Clicking on the Comment button on the top right corner allows the user to add notes or highlight text that can be saved to the original (or a separate) PDF document.
Nitro Reader gives more editing options, adds notes and highlights text, adds text anywhere in the PDF document, and fills out forms and adds signatures from its tabbed ribbon interface. Users can also extract text and images from the PDF file and create PDF files from other documents (like Office documents, images, and so on).
PDFEscape is a web based tool that offers even more features. While it still does not truly edit the original content, it allows users to white out certain areas and add text, images, links, form fields, lines, arrows, rectangles, circles, and checkmarks. As such, it can be a very useful tool for some advanced annotations and filling out forms.
Mac users have the benefit of a built in Preview application that simultaneously serves as an image viewer and a PDF reader. The PDF reader comes with a number of annotation features from highlighting, text writing (in different fonts and colors), adding circles, rectangles, and arrows, etc.
Skim is able to read PDF documents and allows users to take notes. Skim is able to do everything that Adobe Acrobat can including reading PDF documents, adding and editing notes, highlighting text, making snapshots, and navigating pages using table of contents. The software can also export notes as text, magnify text and images, display PDF documents in full screen, make and display presentations, implement passwords, create bookmarks, and much more. Skim supports Apple Remote Control, automatically downloads remote PDF documents, and can be completely customized by the user.
Free PDF Editor Trials
These are the commercial PDF editors with a free trial. They could be a good solution for a one-time editing job as a free trial typically includes all features, and lasts up to 30 days. If you will need to edit PDFs regularly, and beyond the trial period, it will be necessary to buy the full version.
Made by Adobe themselves, Acrobat Pro might be the best solution for most needs, and features a simple easy to use user interface. This is a fully functional free trial.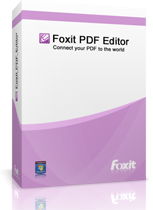 Foxit's latest PDF editor comes in three flavors; Express, Standard, and Business, but only the Business edition features an Advanced Editor that allows complete text editing, image insertion, hyperlinks, and other features expected of a full PDF editor.
The Advanced Editor can be launched and used separately or from within the main Foxit PhantomPDF editor, and the Advanced Editor involves different editing modes for text editing, adding images etc. which can be opened, saved, and closed as needed.
This is arguably one of the strongest and most powerful PDF editors. Although the retail price is a bit high, a 30 day fully working free trial is available for evaluation. Not only can it edit PDFs with the highest quality and accuracy, but it can also convert .docs or .txts files into .pdfs.
This is effectively a more powerful Nitro Reader version that has the ability to properly edit PDF files and has a multitude of additional features not provided in the free Nitro Reader.
Video Overview
We made a video overview of free PDF editors featuring screencasts of basic usage. Please check the YouTube description for links you can use to jump to the section of interest.