Creating one's own unique audio mixes can be quite enjoyable. Fortunately, no one has to spend money to get good audio mixing software. Here are some examples of audio mixing software that are available for download at no charge.
Audacity
Audacity is a good audio mixing software package for anyone who does not know much about audio mixing. While the software is reputed to be for professional mixing, the screens that allow users to manipulate the audio files on hand are easy to follow and even allow them to try various techniques such as adjusting the volume, fading in and out, combining sections from two or more music tracks, and avoiding problems with source files. This can be used to create some great mixes that can then be loaded onto an MP3 player. Audacity can be found on sourceforge.
Ultramixer
The UltraMixer Free Edition allows users to mix music from a variety of formats such as MP3, WMA, OGG, WAV, or even from CDs the user has loaded and plays real time. No particular operating system is required to run UltraMixer, just an up to date sound card. This free software is great for starting a side business as a party disc jockey or just for making some interesting mixes for a get together at home. Download the Ultramixer Free Edition here.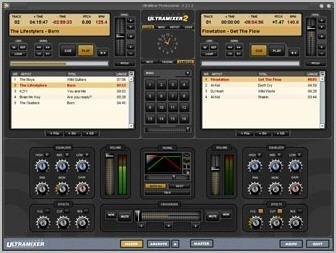 OpenSebJ
OpenSebJ is another choice for free audio mixing needs. This particular audio mixing software supports the loading of 255 audio samples at a time, with all of them needing to be in a wav format. There are several features that can help make the mix more eclectic. They include volume control, panning, and the frequency of each track's use in the mix. This particular free software package works with Windows only. Download Opensebj here.
Depending on the hard drive's memory and the Internet connection speed, some free audio mixing software packages work better than others. Always read the system requirements before downloading any free program.