Text messaging software allows individuals and businesses to send and receive text messages from a computer to many different cell phones, pagers, and PDAs at once. Many large companies use text messaging software to take advantage of the fact that nearly everyone has a cell phone and that millions of people send and receive text messages on a daily basis. For example, Paypal uses text messaging software to allow their customers to check their balance and send invoices from their phone. Likewise, Google uses text messaging software to allow its users to check the weather, get news updates, and perform simple searches while on the go. This article will list various text messaging programs that allow both individuals and businesses to send and receive text messages from a computer.
What is Text Messaging Software
Text messaging software refers to any type of program that handles text messaging from a computer to another electronic device such as a cell phone, pager, or PDA. Text messaging software can be used by both businesses and individuals alike but is usually used by companies to send out the same message or alert to many different devices. For example, a cell phone company may send its customers a text message to alert them that their bill is ready, that a new feature is available, or that the company is having a special deal. These types of alerts are common in text messaging software as the technology is primarily designed for marketing purposes.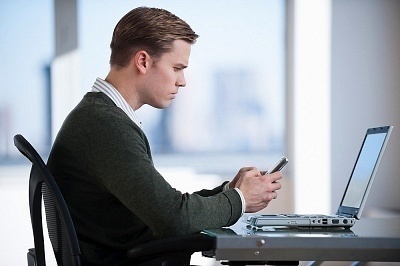 Windows Live Messenger
Text messaging software is not exlusively used for marketing and many individuals simply need a computer program that will allow them to communicate with their friends without having a cell phone. For this purpose, Windows Live Messenger gets the job done just fine. In addition to communicating with other computer users, Windows Live Messenger, as well as almost all instant messaging software for that matter, gets the job done just fine. Simply add a new contact and add the person's cell phone or pager number instead or in addition to their email address. This feature is completely free to the computer user while the cell phone user will be charged their normal fee, depending on their text messaging plan.
iVision Mobile
iVision Mobile and their cell phone messaging program seek to revolutionize text messaging by providing individuals and businesspeople alike with a comprehensive method of alerting each other and their customers to special deals, emergencies, and news. The software also allows users to create mobile campaigns, setup trivia contests, and keep their customers involved with their company by providing an easy way to access the company's information on the go without having to access the Internet.
TextMagic
TextMagic uses the same idea of sending and receiving text messages via instant messenger but with email instead. TextMagic allows the user to easily send and receive text messages through a premium email account with nothing but a web browser. Because the software uses email, TextMagic is also good for archiving text messages. The software is even easier to use than other text messaging software because TextMagic has created the TextMagic Messenger that is basically an email client for your SMS messages. TextMagic offers 20 bonus credits on your first order.
SMS Caster
SMS Caster is another client system that you can install on your computer to send bulk messages to many different cell phones at once. SMS Caster is free to use and does not require that the user has his/her browser open to use the software. Furthermore, SMS Caster is a two-way SMS communication software that allows the recipients to send a text back to the user's computer. Fortunately, the software now includes an automatic responder that can send a second, generic message to the recipient.
NotePager 32
NotePager comes in several different versions but NotePager 32 is the only free one available. NotePager allows the user to send and receive text messages from their computer to one or more cell phone, pager, or other mobile device. NotePager 32 is rather generic compared to other text messaging software although it does include a character counter that helps the user stay compatible with SMS restrictions.
Windows Mobile SMS Sync
Windows Mobile SMS Sync is a part of Windows Mobile that allows users to synchronize their phone with their computer and backup their important text messages. The software allows the user to copy or move text messages from a phone to their computer, another phone, or Window Mobile's free online server that is complete with additional software to help the user store and organize their text messages.
MobiClient
MobiClient is a PC-enabled text messaging client that is mostly used for personal use by individuals. MobiClient allows the user to send and receive messages to and from their friends and coworkers without having to type on a small keypad. MobiClient also features a broadcast feature that allows you to send messages in bulk to many different recipients. The program is free and takes up less than 1 MB of space.