Here's an overview of Free CAD Software you can download, install and use right away.
3D Canvas is a real-time 3D modeling and animation tool that incorporates an intuitive drag-and-drop approach to 3D modeling.
No matter what your 3D skill level may be, design in 3D with ease using 3DVIA Shape. Perfect for the beginner, yet powerful enough for the expert, Shape allows you to easily create your ideas in 3D and share them online all for free.
SketchUp allows you to create, modify and share 3D models. You can even build models and add them to Google Earth and also download free models for it online.
PowerSHAPE-e brings together a fully integrated combination of surface modelling, solid modelling, triangle modelling, reverse engineering and decoration techniques called Total Modelling. To download for personal use choose the academic version from the download page.
CadStd is a general purpose, easy to learn CAD/drafting program for creating professional quality mechanical designs, house plans, blueprints, schematics and charts utilizing ANSI drawing standards. The Lite version is free and can read any drawing created by the Pro version. CadStd Lite can export files as DXF so you can share your drawings with friends who have other CAD programs like Autocad.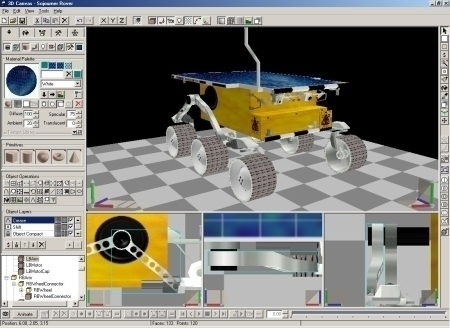 CAD X11® include 3D wireframe modeling, surfacing, OpenGL, Direct3D and Gouraud smooth shading, custom IGES and DXF, 2-D drafting with ANSI, ISO and JIS dimensioning, geometric tolerancing, TrueType Font support, undo/redo, multiple views, data verification, geometric analysis, crosshatching, layering, CGM format I/O, PDF output, Gerber format I/O and on-line help. Free version has a 500kb limit on files, but has all drafting features of the Professional edition, can print to Windows based printers or PDF files and can be used commercially.
VectorEngineer Pro-Tools is a complete technical drawing and multi-purpose cad software system that offers all the features required to create accurate professional drawings, working drawings, designs, plans, layouts and diagrams in a quick and easy mouse driven windows environment. Its great for work, home, education and hobbies. Free version is available.
A9CAD is a general purpose 2D CAD program which supports industry standard DWG and DXF drawing formats, has a familiar Windows graphical user interface, command window to input coordinates and a properties window for viewing and editing entity attributes.
Light version of 2D graphical editor with parametrization tools and a 3D Structure for strength and dynamic analysis of parts and structures by finite elements method are available free for educational purposes or state organizations.
DRAFT IT V3 is a completely free CAD Download that you can use indefinitely. It is a powerful and easy-to-use 2D CAD system suitable for all users, in the office or at home. During the first 15 days after installation you can try out the features of all of the low cost upgrades.
AllyCAD Home
AllyCAD is an industrial strength, user friendly 2D/3D CAD software with specialised toolkits, control center with easy access to symbols, hatching, text, dimension and line styles, ability to load 300 large images with enhanced bitmap capability and full compatibility with latest DWG and DXF formats. Home Edition is a fully functional version of the Professional version suitable for trial or non-commercial drawing purposes, but with a drawing size limit of 300Kb.
T-FLEX Parametric CAD unites powerful parametric 3D modeling functionality with the parametric drafting and drawing production toolset. Innovative and professional T-FLEX Parametric CAD provides breakthrough parametric technology for mechanical design and drafting, combining production-proven Parasolid based solid modeling with powerful drawing capabilities.