Our fast-paced world of technology and entertainment is all about media. Whether it be picture collections, audio playlists, videos, or other files, the human race is all about data. In order to process this data, however, we need media players that fit our needs. Media players allow you to collect files into one place, organize them, create playlists, burn CDs and DVDs, and perform additional functions like converting files from one format to another. In this article, we will be looking at a number of media players that are known around the world and are designed to make your life easier.
Windows Media Player is, perhaps, the most well known media player in the world. Created by Microsoft, Windows Media Player comes with every Microsoft computer system sold worldwide. Windows Media Player allows you to watch movies, create playlists, organize files by classification and genre, and burn files to discs. Windows Media Player does have its drawbacks, though, the biggest being that it does not support a lot of the newer codecs that are being introduced to the market. With external codec packs such as the K-Lite Mega Codec Pack, however, Windows Media Player is able to process and play just about every file format known to man.
DivX is similar to Windows Media Player but also includes a codec pack, a web player plugin that supports HTML5 video tag, a tool for streaming videos over the DLNA protocol to other devices in the home, and the ability to convert and transfer videos to a DVD, Blu-Ray or PlayStation 3.
RealPlayer is a media player that doesn't get as much attention as it used to. RealPlayer is used mostly as an audio media player but it also supports videos and Flash applications. RealPlayer has also taken the initiative to develop technologies that exceed the capacity of other media players. For example, RealPlayer now allows you to download videos and transfer them to your cell phone. It can also play and download web videos, and stream radio stations from a built-in library.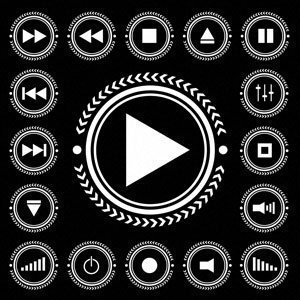 QuickTime was developed by Apple and comes with other products such as Apple iTunes but you can also download it as its own application. QuickTime is able to process 3D models, Flash, various video formats, as well as music. However, on Windows it is mostly useful for playing Apple movie files considering that there are better options for other multimedia formats. It's utility is much greater on a Mac, where it serves as the default media player.
WinAmp Media Player allows you to do several important things. Aside from processing and playing common music and video files, it also supports the latest file formats such as MP4 and iPod video files. WinAmp also allows you to synchronize your files with your iPod, giving you the freedom to ditch Apple's iTunes which takes up a lot of CPU. WinAmp also gives you the ability to subscribe to podcasts and listen to them through WinAmp Media Player, tune in to Shoutcast radio stations as well as the ability to burn and rip files to and from CDs and DVDs.

AVS Media Player
AVS Media Player is able to process and play more files than other media players. For example, AVS can play mobile file formats for videos and songs that come from your cell phone. It can also play QuickTime and RealPlayer media files which allows you to virtually replace both programs with one simple software. AVS Media Player also includes software that can increase your speakers' audio output, converting your computer to a surround sound media center, and a set of great built-in visualizations.
VLC Media Player is a completely open source, cross-platform, multilingual media processing software that can play almost any type of audio or video file. VLC Media Player allows you to change the video quality with the click of a button, scale your video to fit the size of your screen, and convert file formats. The software delivers impeccable quality to any video file.
GOM Player is a nice and simple skinnable video player with support for many formats. If it detects something missing it gives you a direct link to where you can download it. There is also a GOM Audio player to go with it.
Media Player Classic is an open source clone of the classic old Windows Media Player, but somewhat enhanced. As such it features the familiar old look and feel, which might be appealing to some, and is very lightweight. It also supports all common video as well as audio file formats for playback.
Based on MPlayer technology SMPlayer is an open source full featured media player with support for a wide variety of media formats and output drivers. In addition to playing local video and audio files, CDs and DVDs, it also allows you to browse and play YouTube videos. It also supports downloading subtitles from within the player from OpenSubtitles.org. There is also the UMPlayer, based on SMPlayer, with similar features and the ability to browse and play Shoutcast radio streams.
While Foobar2000 is just an audio player it deserves a mention due to its flexible configurable layout, themes, simplistic but cool visualizations, multiple playlists support, and relatively light weight.
Another notable audio player, AIMP, features a cool skinnable interface with support for color adjustment, plugins, browser of internet radio stations, support for recording radio stations, multiple playlists, tag editor, and audio converter. It also has a scheduler that allows you to schedule when to pause playing, quit the application or even shut down, sleep or hibernate the computer. Along with scheduling it also has an alarm feature that lets you play a certain track at a given time at gradually increasing volume.
PLEX is a bit different from the mentioned media players as it is actually a media server and media center suite that allows you to easily turn your PC into a home theater PC and play content on your TV screen or stream it to your other devices (via DLNA). You would have to download both the Plex Media Server and Plex Media Center. The media server runs in the background, and includes a media manager that runs in your web browser, and with which you can add your media library to it as well as configure its options.
The Plex Media Center is a full-screen application that allows you to browse and play through your library of movies and music. You can also add channels, choosing from many that are available in the categorized channel directory, and stream content from those channels. Examples include YouTube for browsing all YouTube videos, same for Vimeo, channels of various TV stations (like MSNBC, CBS, Euronews, and so on), and online video channels like Revision3, IGN, Funny or Die, Khan Academy, UStream, TED Talks, VideoJug, CollegeHumor and many others.
PLEX also offers player apps for various mobile devices (including Android and iPhone), but at a small price. They allow you to browse your own media library on the go, even out of home (if you sign up for myPlex service). There are also free remote control apps you can use to remotely control the Plex Media Center running on your PC or HTPC. Plex also runs on Roku connected TV device.