This is an overview of free CAD software for Linux.
Sweet Home 3D is a free interior design application that helps you place your furniture on a house 2D plan, with a 3D preview.
BRL-CAD is a powerful cross-platform open source solid modeling system that includes interactive geometry editing, high-performance ray-tracing for rendering and geometric analysis, image and signal-processing tools, a system performance analysis benchmark suite, libraries for robust geometric representation, with more than 20 years of active development.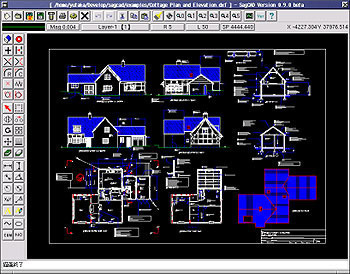 This page contains stuff related to FreeCAD . FreeCAD is an open-source engineering platform. It is basically a 3D modeller, with focus on engineering, like Catia or SolidWorks. It is extremely open and versatile, has many interesting features being developed such as parametric modeling, total python access to any part of the program, and a strong BRep-based modeling kernel.
freeCAD is a basic 3D CAD with advanced Motion Simulation capabilities. It is suitable for anyone interested in learning 3D CAD and Motion Simulation for free before using more sophisticated packages. Its motion simulation capabilities are comparable to the best and can provide accurate answers to engineers and scientists in diverse fields.
SagCAD is a 2D CAD/CAM which can use Qcad cxf font files, supports SGY, IGES, NC and standard DXF files and postscript output. It's available in Ubuntu repositories.
QCAD is an application for computer aided drafting in two dimensions (2d). With QCAD you can create technical drawings such as plans for buildings, interiors, mechanical parts or schemas and diagrams. QCAD works on Windows, Mac OS X and many Linux and Unix Systems. The source code of the QCAD community edition is released under the GPL (Open Source). It is available in Ubuntu repositories.