Error Number: 0x800CCC0E occurs in the Microsoft Windows family of operating systems when there is a problem with Microsoft Outlook Express. A conflict with Simple Mail Transfer Protocol (SMTP) servers while using one of the Microsoft Outlook Express programs to read or browse through mail traditionally causes the error. The full text associated with the error may be: "The connection to the server has failed. Account: , Server: , Protocol: SMTP, Port: 25, Secure (SSL): No, Socket Error: 10051, Error Number: 0x800CCC0E."
What Causes this error?
The Error Number: 0x800CCC0E is triggered because of a built in behavior with Microsoft Outlook Express. While connected to the Internet with the MSN network, Outlook Express will not allow the user to send messages to another Simple Mail Transfer Protocol (SMTP) server. Error Number: 0x800CCC0E is fairly easy to fix nonetheless.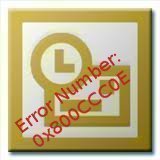 How to Resolve this Error
In order to resolve this error, the user should set his/her email's SMTP server to the MSN SMTP server. While it does not require computing skill to accomplish this task, be sure to read all instructions on the screen for the best results. Typing in SMTP servers can be tricky business, so always double check what is typed in, as the Microsoft Outlook Express copy may mistakenly be prevented from accessing the mail.
First, navigate to the Accounts setting under the Tools menu. Click the Mail tab and choose the account to be changed. Press the button labeled Properties.
Press the Server tab and look for the Server Information section. Delete whatever is currently populating the Outgoing Mail (SMTP) text box and type in "smtp.live.com."
Look for the Outgoing Mail Server section. Select the check box labeled My Server Requires Authentication and press the Settings button. Look for the Login Information section and press the Log On Using button.
Type in an MSN Member ID in the Account Name text box. The MSN Member ID should be the user name before the @ portion of an MSN email address. Type in the MSN Member password in the Password box and click on the check box labeled Log On Using Secure Password Authentication.
Close the Outgoing Mail Server box by pressing the OK button. Close the Mail Account Properties box by pressing the OK button. Press Close to finish setting up the account.