The PocketDISH is a great way to store your favorite TV shows, videos, photos, music, in fact almost any digital media, onto a portable device that can fit in any small bag or pocket. The PocketDISH is created to work with the Dish Network Satellite TV service; however, if you are not a subscriber to this service, you can still find plenty of great uses for this tech gadget.
In essence, the PocketDISH is a portable media center. The PocketDISH has the ability to download from a Dish network, TV shows, videos, feature length movies, games, as well as download from your computer your music collection, data files and digital photos. The PocketDISH can easily interact with the dish network or your computer via a USB port. It is able to transfer data via USB 2.0 or USB 1.0 quickly and conveniently.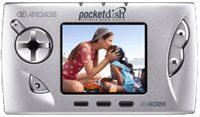 There are three models offered in the PocketDISH. They are; AV700E, AV500E and the AV402E.
PocketDISH AV700E
While truly portable, this PocketDISH offers consumers a large 7 inch LCD screen, 40 GB of storage and uses USB 2.0 for transferring files from your computer or select Dish Network DVR's.
PocketDISH AV500E
This is the mid level PocketDISH which sports a 4 inch LCD screen and 30 GB of storage space. It uses the USB 2.0 for transferring files from computer or select Dish Network DVR's.
PocketDISH AV402E
The AV402E is the entry model and consists of a truly portable 2.2 inch LCD screen and 20 GB of storage space. This is the perfect model to carry your entire music collection or about 20 hours of digital programming.
You can purchase these PocketDISH portable media players directly from Dish Network or through authorized Dish Network dealers. It should be noted that all PocketDISHes include a rechargeable battery. The current specs state that you should achieve about 4 hours of video playback and about 12 hours of music playback per charge. Currently the prices for the PocketDISH range from about $150 for the entry model, $300 for the mid level model and about $400 for the top of the line model.
The PocketDISH is extremely easy and convenient to use. You can easily connect your PocketDISH to select Dish Network DVR's or your computer via USB port. A USB cable is provided with the PocketDISH. Using USB 2.0 you will get extremely fast data transfer speeds. Expect to transfer about 1 hour of digital video in 5 minutes via USB 2.0 or in 40 minutes using USB 1.0. This is great for consumers that would like to transfer a full length motion picture from their DVR player or computer to their portable PocketDISH. The time of transfer is less than 10 minutes!
The PocketDISH is also great for storing your entire music collection. Every PocketDISH can easily playback MP3, WAV or WMA files. Once they are on your PocketDISH, you can easily sort through your collection and even create playlists with a user friendly interface.
Three other types of media you can download and store onto your PocketDISH are digital photos, games and practically any type of data files. You can download files from a Windows PC or a Mac. The PocketDISH is a great device for storing and playing back almost any media whether you are in your home, at the office or on the go.