Dish Network, and their previously separated partner, EchoStar, have launched dozens of satellites over the past decade in order to provide direct broadcast satellite television services to their subscribers. While each satellite location, known as an "orbital location" provides services to a different region of the Earth, many of the orbital locations contain multiple satellites to increase available bandwidth and provide redundancy to cover any inoperable satellites in the area. Likewise, satellites in one orbital location can still provide service to satellite receivers in an area designated to a nearby orbital location if they are positioned close enough. While the following are not the only satellites Dish Network uses, they are the most commonly used satellites.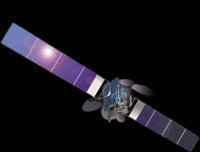 61.5W
The 61.5W orbital location is designated as a spare satellite to the 110W and 119W orbital locations, which are Dish Network's primary satellites. The 61.5W orbital location is known as EchoStar III and was launched on October 5, 1997. The LM A2100AX satellite found at the 61.5W orbital location connects to 32 Ku transponders.
110W
The 110W orbital location features the EchoStar VI Loral FS-1300 satellite that was launched on July 14, 2000 and the EchoStar VIII Loral FS-1300 that was launched on August 21, 2002, both of which connect to 32 Ku transponders. When Dish Network released the Dish 500 satellite receiver, they created the 110W location in order to provide subscribers with channels that were not yet available from the 119W location. Generally, whenever a subscriber purchases Pay-Per-View channels or additional packages that were not included in his/her original channel package, the user is connecting to the 110W location.
119W
Like the 110W orbital location, the 119W location is a primary satellite of Dish Network and is used to provide subscribers with all basic channels and packages. The 119W location features the EchoStar IV LM A2100AX satellite that was launched on May 8, 1998 as well as the EchoStar V Loral FS-1300 that was launched on September 23, 1999 and the EchoStar VII LM A2100AX that was launched on February 21, 2002, all of which connect to 32 Ku transponders.
| Designation | Launch Date | Orbit | Satellite | Transponders |
| --- | --- | --- | --- | --- |
| EchoStar I | 12/28/95 | 148W | LM 7000 | 16 Ku |
| EchoStar II | 9/10/96 | 148W | LM 7000 | 16 Ku |
| EchoStar III | 10/5/97 | 61.5W | LM A2100AX | 32 Ku |
| EchoStar IV | 5/8/98 | 119W | LM A2100AX | 32 Ku |
| EchoStar V | 9/23/99 | 119W | Loral FS-1300 | 32 Ku |
| EchoStar VI | 7/14/00 | 110W | Loral FS-1300 | 32 Ku |
| EchoStar VII | 2/21/2002 | 119W | LM A2100AX | 32 Ku |
| EchoStar VIII | 8/21/2002 | 110W | Loral FS-1300 | 32 Ku |
| EchoStar IX/Telstar 13 | 8/7/03 | 121W | Loral FS-1300 | 32 Ku and 2 Ka |