Dish Network is a leading U.S. provider of satellite television entertainment services founded on March 4, 1996 by Charlie Ergen (Founder & chief executive). It is headquartered in Meridian, Colorado. Dish Network currently provides satellite entertainment services to over ten million customers using DBS (Direct Broadcast Satellite) technology.
Dish Network provides advanced digital satellite television to the home, including hundreds of videos, audios and data channels, personal video recording, HDTV, sports and international programming. It's corporate management comprises of Charles Ergen (Founder, Chairman, President and CEO), Carl Vogel (Vice Chairman), R. Stanton Dodge (Executive Vice President of Legal), Bernard L. Han (Executive Vice President and Chief Financial Officer), Mark W. Jackson (President, EchoStar Technologies), Dean Olmstead (President of Fixed Satellite Services), Steven B. Schaver (President of EchoStar International) and Stephen W. Wood (Executive Vice President of Human Resources).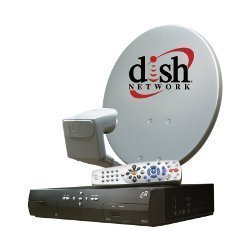 Dish Network provides professional installation support and 24hr customer service. Dish Network broadcasts on Ku-band and Ka-band satellite frequencies.
History
1987 – Dish Network commenced business as a service of EchoStar.
1992 – EchoStar secured a direct broadcast satellite license with the Federal Communications Commission.
1995 – It effectively launched its first satellite called EchoStar I. It also created the Dish Network trade name to market its home satellite TV system.
1998 – EchoStar bought the broadcasting possessions of a satellite broadcasting shared business enterprise of News Corporation's ASkyB and MCI Worldcom.
2005 – EchoStar purchased the broadcasting possessions of the disturbed HDTV satellite provider Voom, together with its Rainbow 1 satellite situated with EchoStar 3.
2008 – EchoStar divide into two separate companies, Dish Network Corporation and EchoStar Broadcasting Corporation.
2009 – Dish Network starts airing free monthly concerts on channel 101, paralleling DirecTV's The 101 Network.
Dish Network Competitors
In addition to competition from cable and broadcast television, Dish Network competes with DirecTV. DirecTV is the other major satellite television broadcaster that provides service in the United States.