Nagravision is a company that develops conditional access systems for cable and satellite television. These conditional access systems usually involve encryption.
There are currently three types of Nagravision versions in place; they are all used for digital cable and digital satellite television. They include Nagravision, Nagravision A and Nagravision Aladdin.
Nagravision is generally used for satellite companies that broadcast fee based television programming. Due to the fact that broadcasts can be picked up by almost anyone with a satellite dish, broadcasts are encoded, so that non paying customers can not view programming. Because programming is transmitted from the satellite already encrypted, satellite receiver dishes usually have integrated decryption units called a CAM (Conditional Access Modulator). Besides a CAM being used to decrypt television programming, a CAM can also come in the form of an emulator on a digital chip. Usually these chips are built into set top receivers.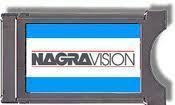 Nagravision conditional access systems are popular throughout the world and used by many top providers including Dish Network USA, Digital Spain, NTL UK, Dream Satellite TV Philippines, TV Cabo Portugal, Premier German.
Unfortunately, piracy continues to plague Nagravision products and has made the original Nagravision practically obsolete. Currently, most broadcasters are fighting a tense battle with pirates and hackers who continually hack the satellite signal and bypass Nagravision conditional access systems. Usually Nagravisions' conditional access systems can be broken with the purchase of FTA (Free to Air) satellite receivers. These satellite receivers are able to pick up broadcasts from satellite broadcasts that offer fee based programming. Once an individual has set up an FTA satellite receiver, the last step is to insert a smartcard that includes specific firmware to break the encryption code. While pirates and hackers must update and change the firmware regularly, it is relatively easy to break and view encrypted fee based programming for free. It should be noted that piracy and hacking encrypted satellite broadcasts is usually illegal in many countries and regions.
Other Nagravision Products
Besides conditional access modules for digital satellite broadcasts, Nagravision also offers other types of products:
IPTV- security and content protection for the use of IPTV (Internet Protocol TV) on IP, DSL and fiber optic networks.